The ASEAN states are in the shadow of the dynamic development in China, with companies in Southeast Asia in particular benefiting from current developments. We spoke with ASEAN fund manager Pauline Ng of J.P. Morgan.
AsiaFundManagers.com: Pauline Ng, ASEAN countries are experiencing record growth. Which companies and industries are driving this growth?
Pauline Ng: We see a large number of countries with strong growth in the ASEAN region. One of the most notable examples is Vietnam: the strong growth is due to years of foreign direct investment (FDI), which drives manufacturing, wage growth and domestic consumption. In Thailand, growth in recent years has been mainly in the tourism sector. We expect Thailand's growth rate to be moderate, but see an expansion of tourism to other countries such as Vietnam, the Philippines and Indonesia.
ASEAN Fund: Philippines benefits from reforms
In the Philippines, a strong gross domestic product, tax cuts and wage increases have driven domestic consumption. On the negative side, however, this has fuelled inflation and favoured peso weakness. The country is now struggling with rising current account deficits and inflation. Commodity prices and the recovery in exports over the past two years have benefited some companies.
AFM: Are the ASEAN countries the real winners of the trade dispute between the US and China?
Pauline Ng: The ASEAN countries could benefit from this shift in outsourcing. Many manufacturers are currently exploring the potential benefits of changing their supply chains. Vietnam, Malaysia, Indonesia and Thailand have all reached a critical mass of infrastructure, logistics and manpower that fit well into global supply chains.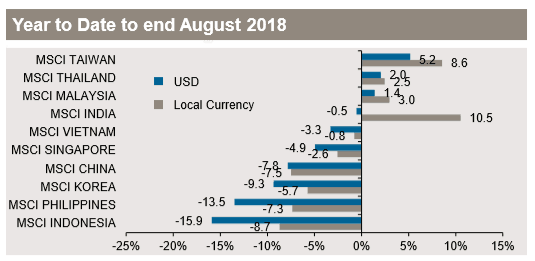 AFM: What is the future position of the ASEAN countries next to a dominant Chinese neighbour?
Pauline Ng: The ASEAN countries have always coexisted and adapted alongside the rise of China. In the 1990s and early 2000s we saw a shift of labour-intensive industries to China. With rising costs in China, we have seen a reversal of this trend. Chinese and other international companies are relocating their production and supply chains to the emerging ASEAN countries. Thanks to their demographic advantage and China's "One Belt, One Road" initiative to expand intercontinental trade, Chinese investment has been attracted to this region.
ASEAN countries are not a single market
The interplay of economic and political interests leads to a symbiotic relationship, even if tensions can occasionally arise. It is unlikely that the ASEAN countries will become a true internal market in the near future. Although trade tariffs have been dismantled, non-tariff barriers still exist in some places.
AFM: Singapore and the rest of Southeast Asia are difficult to compare in terms of economic development. How do you deal with these differences in your fund?
Pauline Ng: With our focus on bottom-up stock selection based on attractive company data, this is not a question of country comparisons. We are looking for stocks that offer the most promising development. We seek long-term investments in high-quality, well-managed companies with sustainable growth potential and a sophisticated approach to environmental, social and governance issues.
It is critical to the success of our investment process that we have local knowledge and comprehensive background information. We have more than 40 years of expertise in Asia and have local experts in six locations in the region. Within the Group, there are nearly 100 investment professionals covering emerging markets and the Asia0Pacific region. In 2017, we held around 5,000 meetings with companies in this region.
ASEAN bank shares expected to increase profits
AFM: The largest positions in your fund are all financial service providers. What are the arguments in favour of the industry?
Pauline Ng: We weight the sector by selected financial stocks, which are supported by a strong capital position, earnings enhancement potential and attractive valuations. This applies in particular to bank shares. Among the largest positions in the fund are the DBS Group, United Overseas Bank from Singapore and Oversea-Chinese Banking Corp. We are thus relying on a recovery in the financial sector.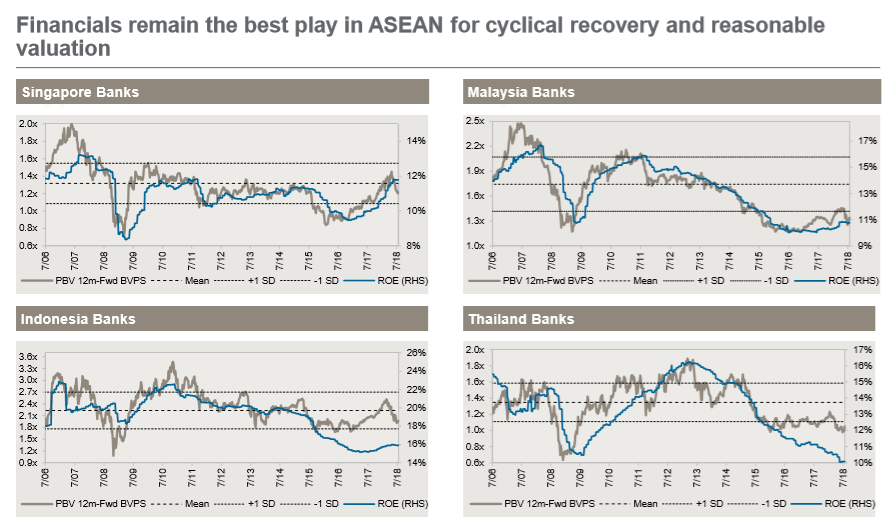 AFM: Mrs. Ng, thank you very much for the interview.