China's A-share market is one of the largest stock markets in the world but is surprisingly underowned by foreign investors, who own an estimated 2-3% of the total China stock market, compared to an estimated 22% of the US and 35%-40% of the UK market.
The World's Five Largest Stock Markets: Market Cap (USD Trn), May 2020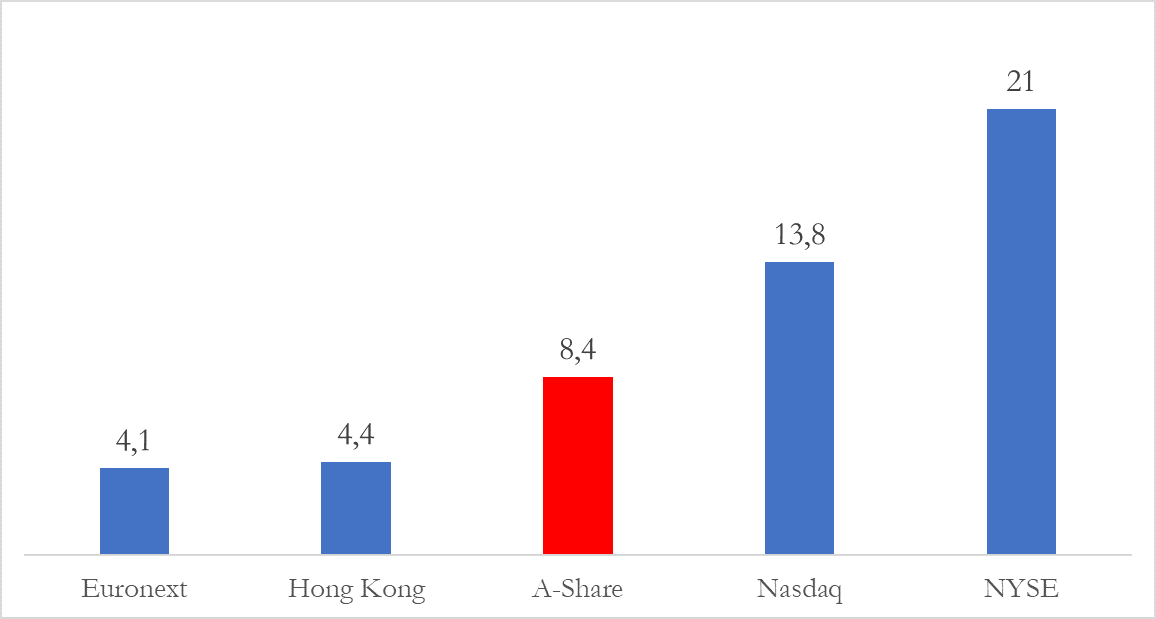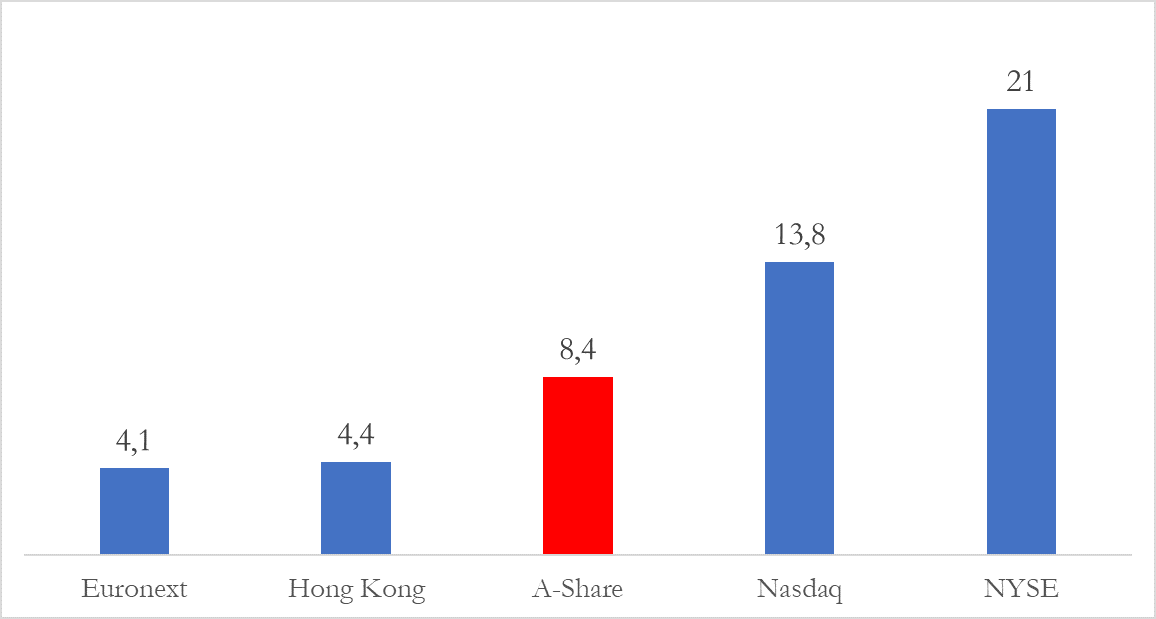 Note: A-share market denotes the combined market cap of Shanghai and Shenzhen stock exchanges
China A-share has been rallying in 2020
That means many global investors have missed out on a rally seen over the past year in the China A-share market.
That rally, as in most things in China has been driven by policy measures by the Chinese government.
Since the peak of US-China trade tension in mid-2018 and throughout the COVID-19 outbreak in 2020, the Chinese government has both implemented wide-ranging policy support measures and made firm commitments to future steps if deemed necessary.
The government has applied targeted monetary easing, tax cuts, and subsidies and administrative measures, such as the roll-back on deleveraging steps taken in 2017, to support the economy.
These measures to promote stable growth and to address the challenges of COVID-19 have helped China's A-share market and economy rebound following the Q1 20 Covid-19 outbreak, making it the first economy in the world to move into growth in Q2 2020, according to the most recent data released by the Chinese government.
Reforms have created investible themes for China A-share investors
Aside from policy support, a steady stream of reforms over recent years have played their part to create investible themes for investors in China. Two areas of policy reform stand out.
For instance, the removal of restrictions on migration to China's cities. For years, China has restricted the migration of workers to cities.
Specifically, that has meant migrants had no access to social services, like healthcare, education and social housing, and finance, like mortgages to buy homes.
Starting in 2013, measures to remove restrictions and extend social services to migrants have boosted urbanization, increased urban labor forces, spurred consumer demand and benefited companies in the consumer sector.
Finally, the opening up of China's services sector has created opportunities for many new sectors. For example, state-owned companies used to monopolize parcel delivery, but the opening up of the sector in the past few years has benefited logistics companies in the parcel sector, just as China's e-commerce boom has taken off.
Financial services are another growth area. Dominated for years by China's big-four banks, the government has opened up both banking services and new emerging areas, like retail wealth management and cashless payments, to a much larger range of companies, particularly to China's tech giants like Alibaba and Tencent.
Stock Connect has been a game changer for A-share markets
The final factor and indeed one major area of reform has been the opening of China's A-share markets to overseas investors.
Programs like the Shanghai and Shenzhen Stock Connect have opened up China's A-share markets to investors from all over the world, and inflows have increased markedly.
The combined average daily trading volume on the Northbound channels of the Shanghai and Shenzhen Stock Connects has grown from HKD 5.9bn in Q1 2017 to HKD 85.0bn in Q1 2020, according to data from the Hong Kong Exchanges and Clearing.
The Northbound channel on the Shanghai and Shenzhen Stock Connects represents trading volume from overseas investors based in Hong Kong into mainland A-share markets in Shanghai and Shenzhen.
The MSCI Factor: Bringing China A-shares into Global Indices
More than opening a door to China A-shares for overseas investors, the launch of the Hong Kong and Shanghai/Shenzhen Stock Connects brought them into global benchmarks.
Prior to 2018, China A-shares on Shanghai and Shenzhen stock markets were vastly under-represented in major global benchmarks, like the MSCI EM and MSCI All Country World Index (ACWI), because overseas investors couldn't trade freely in and out of the markets.
However, the success of Stock Connect removed this key barrier, started the process of bringing China A-shares into MSCI benchmarks, and spurred a notable pick-up of investment after MSCI first announced the index inclusion process in Q3 2017.
That's largely because passive strategies tracking the MSCI EM, China, and ACWI indexes had to rebalance their allocations to reflect the index inclusion process. The total inflows implied by MSCI's move to increase China shares weighting in its global aggregates has been estimated at up to USD 40 billion from both passive and active funds, by China International Capital Corp, a mainland China investment bank.
That process concluded in November 2019. After the latest round of rebalancing, A-shares now have a 0.5% weight in the MSCI All Cap World Index, and a 4% weighting in the MSCI Emerging Markets Index. A total of 710 China A shares have been included in the indices, representing about 18% of the total number of securities on the A-share market as of the end of June 2020.
The conclusion of MSCI's rebalancing of China A-shares in its indices has been described as the 'end of the beginning.' That's because the weightings described above still under-represent China's role in the global economy. It is expected that the weighting of A-shares in global indices will increase in the future. Further inclusion will be dependent on China's authorities making a series of further technical reforms, as listed by MSCI in November 2019.
China A-Shares In Focus
Now that channels have opened and China A-shares are steadily being brought into global benchmarks, A-shares are now well and truly in global investors sights.
But what do overseas investors interested in the China A-share space need to know? Here are a number of factors well worth considering.
What are China A-shares?
China A-shares are RMB-denominated equity shares of China-based companies that trade on the Shanghai and Shenzhen Stock Exchanges.
In total there are 3,769 China A-shares listed on the two exchanges as of July 22, 2020, with 1,522 listed in Shanghai, and 2,247 listed in Shenzhen.
Put together, this collection of 3,769 equity names constitutes the largest part of the China equity universe, dwarfing the 266 mainland China companies listed in Hong Kong as H-shares, and the 170 Chinese companies listed on US exchanges as ADRs (American depositary receipts).
The China A-share opportunity set
China A-shares offer investors a much different opportunity set compared to the H-share market.
Specifically, China's A-share market offers investors a wider selection of companies operating in China's 'new economy' or – more specifically – sectors such as IT, consumer, and healthcare.
MSCI China H- and A-Shares Benchmarks Compared: Sector Composition, July 2020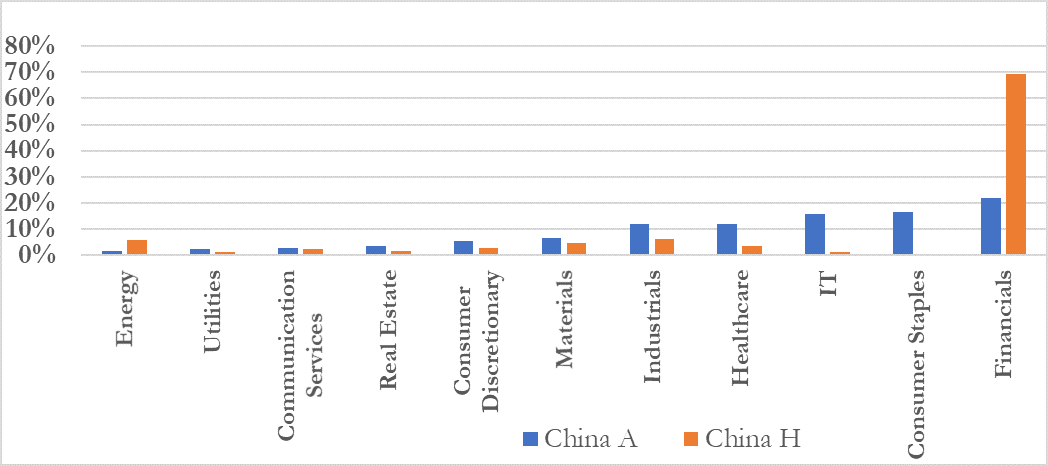 China A-shares – a unique investor base
But who buys China A-shares?
Total Amount of China A Shares Owned by Overseas Investors (RMB Trillions), Jan 2017-Mar 2020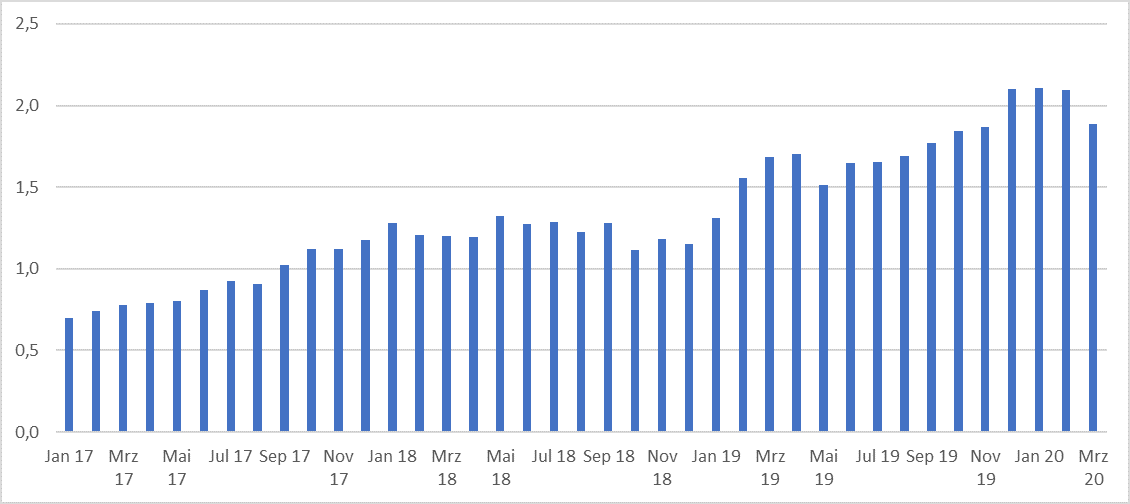 While it is true that overseas investors are becoming more influential, they only account for an estimated 3% of the onshore China A-share market.
China's A-share markets are dominated by retail investors, and that's a stark difference to other major exchanges around the world.
Retail investors tend to be more sentiment driven and have shorter holding periods than say longer-term institutional investors. And this is particularly true in China's A-share markets, which are prone to periods of volatility driven by rapid changes in sentiment.
While that may be a problem for passive investors who choose to follow a benchmark, it may offer opportunities for active investors who can exploit periods of mispricing in the China A-share markets that may result because of sentiment-driven volatility.
Perhaps adding to the sentiment issue, China A-shares remains significantly under-researched. According to Matthews Asia, an investment firm, 59% of the China equity market has zero analyst coverage, with almost 80% having coverage by two or fewer analysts. It follows then that much of the China A-share market remains untracked, and potential opportunities may be out of investors' scope.
China A-Share market too big to be ignored
Strong performance compared to global markets, a rebounding economy, ongoing reforms, opening to global markets, index inclusion, and a unique and broad opportunity set all point to a reality that global investors that will have to get used to. Namely, that China's A-share market is simply too big to be ignored.
That said, it is as challenging as it is unique. Persistent volatility, differing standards of corporate governance and disclosure, as well as a lack of extensive research coverage mark the China A equity market as a very different proposition to what most overseas investors are used to.
These key investor questions on China will remain for some time, but for all the challenges, there are opportunities.
Volatility creates buying opportunities for active investors, a lack of research offers the chance to uncover underappreciated stories, and fundamental themes – like the growth of the China consumer, rapid innovation, and the offline to online shift – have the potential to run further as China's growth story continues.
Ultimately, capitalizing on the China A story comes down to approach. While a whole range of passive instruments are becoming available, the features described above indicate an active approach may be the best way to capture alpha in the China A space.