On April 17, 2019, Indonesia held its elections, letting 192.8 million voters choose their country leader and legislative members for the next five years. Official confirmation of the results is not expected for several weeks, but "quick counts" by private polling groups suggest that incumbent president Joko "Jokowi" Widodo will remain in power. The quick counts put him ahead of his rival Prabowo Subianto by between seven and 10 percentage points.
However, the opposition party Gerindra of former general Subianto claims that their candidate is in the lead. He also ran against Jokowi in the last presidential race in 2014. Back then, Prabowo had initially not acknowledged his defeat against Jokowi and challenged the election result in court, but without success.
The election was one of the most complicated single-day voting in the world. Besides electing the president, voters were also called upon to elect a new parliament and provincial and municipal representatives. Sixteen parties, including four new parties, participated in the elections for parliament. Over 240,000 candidates have competed for legislative and executive chairs, as well as local councils for provinces and cities all over the country.
According to Coordinator Minister of Politic, Law and Security, Wiranto, the voting participation in the 2019 Indonesian elections reached over 80 per cent, exceeding 77.5 per cent target. The election's day has become a national holiday, which often dubbed as a festival of democracy by Indonesian citizens.
Muslim cleric Ma'ruf running-mate as vice president
Jokowi, 57, has been the president of Indonesia since 2014. He is a member of Indonesian Democratic Party of Struggle (PDI-P). The centre-left party was founded by former president Megawati Soekarnoputri, the daughter of Indonesian first president Soekarno.
A furniture business owner, Jokowi started his political career as Governor of Surakarta, Central Java, in 2005. In 2012, he was elected as the capital Jakarta governor but left his post two years later to enter presidential elections. In his first term he has made some progress in economic reforms. Jokowi also brought infrastructure projects on the way – important steps to boost growth.
Jokowi running-mate in the election is Ma'ruf Amin, Indonesia's top Muslim cleric. He will replace current vice president Jusuf Kalla for the next presidential term. Maruf, 76, is the leader of top clerical body Indonesian Ulema Council (MUI). For the election he resigned as Supreme Leader of Islamic organization Nahdlatul Ulama (NU). He has some political experiences, e.g. he was a member of the Presidential Advisory Council during the term of Jokowi's predecessor Susilo Bambang Yudhoyono.
Economic growth and trade deficit: challenges for the next president
However, the winner of Indonesia elections cannot avoid looming challenges in the economy. As the country average growth stood around five per cent annually, it is still far from the seven per cent target set by Jokowi administration. However, the Indonesian government has set the GDP growth target at 5.3 per cent for 2019 and 5.5 per cent for next year. Considering the slowing growth of the economy worldwide, the tension between Indonesia top trading partners China and the US, and volatility of oil price, the achievement of the target can be challenging.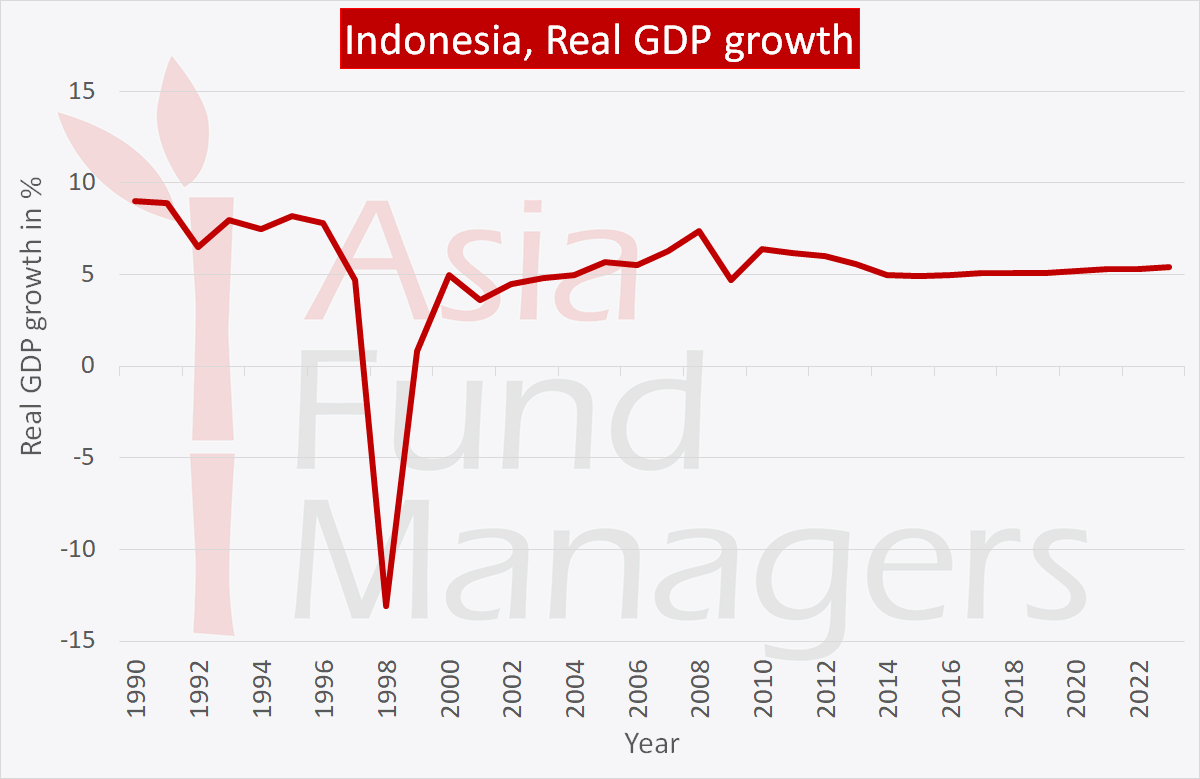 Last year, Indonesian trade deficit reached nearly three per cent of the nation's GDP. It makes Indonesia dependent on foreign capital to fund import need, while the foreign investment inflows keep changing. Foreign investment dropped 8.8 per cent in 2018.
Indonesian currency rupiah has weakened more than five per cent in 2018 and hit the lowest level since the Asian financial crisis in 1998 as investors gave up their investment on stocks and government bonds. However, in 2019 the rupiah started to recover after the Indonesian central bank raised the interest rate 175 point base.
Indonesian elections: market response
Meanwhile, Moody's Investors Service states that a second term of Jokowi is likely to be beneficial to investment and growth in the country. Given he continues the reforms including development of infrastructure and human capital. "A stable growth environment will in turn foster financial market stability, which is crucial, given the high share of foreign ownership in the bond market," Vice president and senior analyst Anushka Shah said.