ESports, competitive gaming events conducted at a professional level, are becoming big business. According to Juniper Research, the global eSports and games streaming industry is expected to grow from $2.1 billion in 2021 to $3.5 billion by 2025. This represents a growth of 70% over the next four years. With its roots being in South Korea, Asia has led global eSports trends and growth for over the past twenty years.
In 2019, Asia generated nearly half of all global eSports revenue at $519 million, research firm Niko Partners found. One of the main growth factors is the increasing adaptation of mobile games. Mobile eSports game revenue generated in Asia was $13.3 billion in 2019, about 68% of global revenue.
Over 1 billion eSports viewers from Asia and all over the world
Asia sets also the biggest stage for international competitions. Considering that the majority of viewers come from that region this is not that surprising. According to Juniper, 50% of the over 1 billion eSports and games viewers in 2025 will be from the Asia Pacific region.
Infrastructure is also mature across the region and eSports tourism is growing. In 2018, the League of Legends World Championship in South Korea broke records. The finals had 99.6 million unique viewers, in addition to about 30.000 viewers at the Incheon Munhak Stadium near Seoul.
ESports was a medal event at the 2019 Southeast Asian Games in the Philippines and will be at the Asian Games 2022 in Hangzhou, China. This is marking a major step towards mainstream. Hangzhou will open the Xiacheng District Esports Stadium, later this year. The arena is 80,000 square meter big, surronded by an eco park, and can host a little over 4,000 viewers.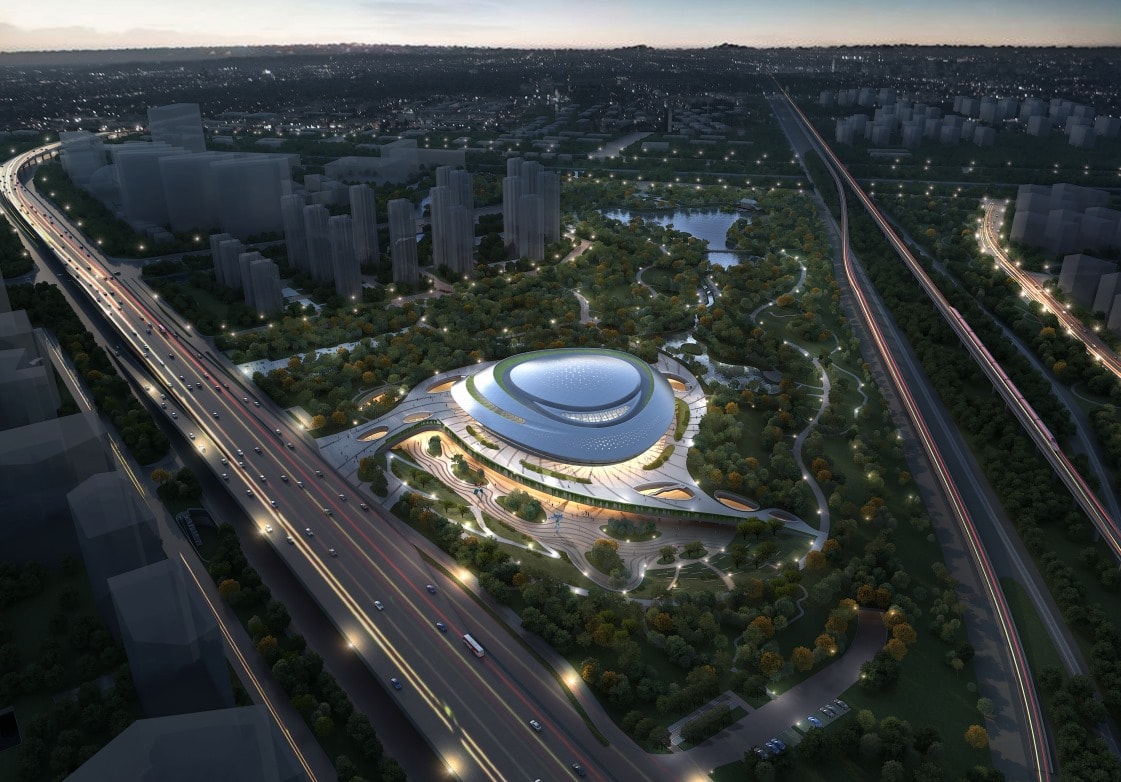 And there are more eSports arenas in China to come. In Shanghai, construction work on the Shanghai International New Cultural and Creative E-sports Center has just begun this year. The centre is scheduled to open 2024, costs are estimated at around $900 million. The initiators aim to host more than 300 international eSports competitions per year with a capacity of 10.000 visitors daily.
China becoming a dominant eSports market
South Korea is the home of eSports. The industry has developed at a very fast pace and is now run like a professional sports league. In 2000, the Korean government created the Korea Esports Association (KeSPA) to further promote the sport. Five years later, the world's first sports venue designed specifically for online gaming opened in Seoul's Yongsan district. Today, South Korea continues to be one of the largest eSports markets in terms of earnings and industry development.
However, China is catching up experiencing faster growth rates over the last years. In 2020, China accounted for about 35% of global eSport revenue. The government is supporting the market and added eSports and gaming into higher education training with "eSports Degrees" being offered at some universities since 2017.
The market is further support by China's tech giants with Tencent being the dominat player. Tencent is already the world's largest games company by revenue. The company has stakes in a number of major eSports game developers including League of Legends developer Riot Games or Fortnite developer Epic Games.
Tencent's commitment in the gaming scene is further evident with a deal struck in 2017 with the Chinese city of Wuhu to build an eSports industrial park.
Japan is also catching up on the global eSports scene, but comparatively slow. According to Japanese research firm Kadokawa Game Linkage, the eSports market in Japan is expected to expand 2.5x by 2023 from $58 million in 2019.
Also Southeast Asia is catching up. While the region represented a mere 3% of global eSports revenue in 2019, this was a 34% rise year-on-year.
Getting exposure to Asia eSports market
The rise of eSports is presenting new, interesting investment opportunities. While getting a direct exposure to the eSports theme is fairly limited, investors can target companies that generate significant revenue from video games and e-sports.
"Tencent is one of the key players due to it holding or having a stake in many of the key game developers," says analyst Mio Kato of LightStream Research who publishes on Smartkarma. "However, due to the company's large range of products and services, it is not reliant on eSports to drive its revenues and profitability. With that said, the company's investments in the eSports space have been intelligent and as the industry grows, it could become a significant contributor even to Tencent, though this is more a ten-year horizon investment than a short-term driver."
As "the best pure plays on the eSports theme, in Asia and globally," Kato names Huya and Douyu – the two largest game-streaming platforms in China. They have a pending merger. Closing the deal would give the merged company a 80% market share in China's game streaming market.
Given the success of the gaming industry, there are now also eSports & Gaming ETFs on the market. Incepted in June 2019, the first UCITS ETF to offer investors access to a diversified portfolio of esports and video gaming companies was the VanEck Vectors Video Gaming and eSports UCITS ETF. In October 2019, the Global X Video Games & Esports ETF was launched. Since December 2020 it is also available as UCITS fund.
While both ETFs have the largest country exposure in the U.S., Asian countries combined account for more than half of the asset allocation. VanEck has 23,15% allocated in China, 19,53% in Japan, 8,88% in Taiwan and 5,54% in South Korea. Global X is favouring Japan over China with 24,5% respectively 14,8%. Other allocations in Asia are in South Korea (11,7%), Singapore (6,2%), Hong Kong (0,8%) and Taiwan (0,5%).*
* all data as of 28 February 2021