The latest forecast of the International Monetary Fund (IMF) puts India as one of the fast growing economies worldwide – even though Covid-19 pandemic is taking its toll on the country. The IMF predicts the Indian economy to grow by 1.9% in 2020. However, this is the slowest pace of expansion since 1991.
But nevertheless, Indian economy growth is something investors should keep an eye on.
Indian Economy Overview
India is a fast and highly complex nation that went through profound changes in the post-Second World War period. Having been granted independence following its colonial past, India has rapidly industrialised, and is today characterised as being a developing market economy.
India is the fifth-largest economy on the planet in terms of nominal GDP ($2.94 trillion), with its position rising into third place based on purchasing power parity at $11.33 trillion.
As India develops, its economy continues to grow, even in times of the Covid-19 pandemic. The IMF believes that Indian economy growth will expand by 1.9% in 2020. The only other economy that the IMF says will experience growth this year is China.
However, despite the rapid industrialisation of India, there is no doubt that poverty remains a major issue in the country. India's GDP per capita is just $2,170, with the nation ranking 139th globally in this category. This degree of poverty continues to define everyday life in India, with 73 million people in the country living in extreme poverty, and many others continuing to experience very basic living standards.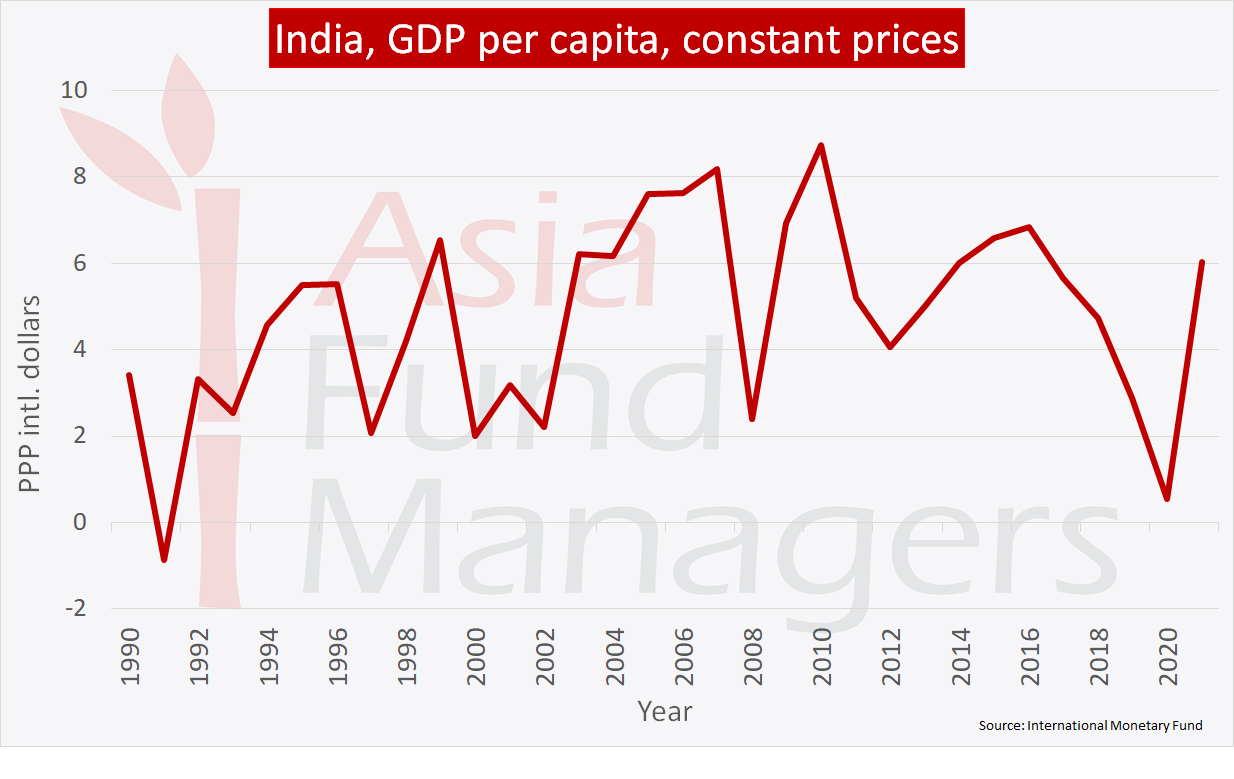 Demographically, over 50% of the population of India is aged under 25, and more than 65% is aged under 35. This means that the average age in the country is just 29, meaning that India has a very youthful population that will help the country demographically going forward. By comparison, the average age in China is 37, while this figure is a worrying 48 in Japan.
Much of India's economic development has been achieved thanks to its vast population, with 1.34 billion people currently residing in the country. Only China has a larger population than India, but the United Nations projects that India will become the world's most populous nation by 2024.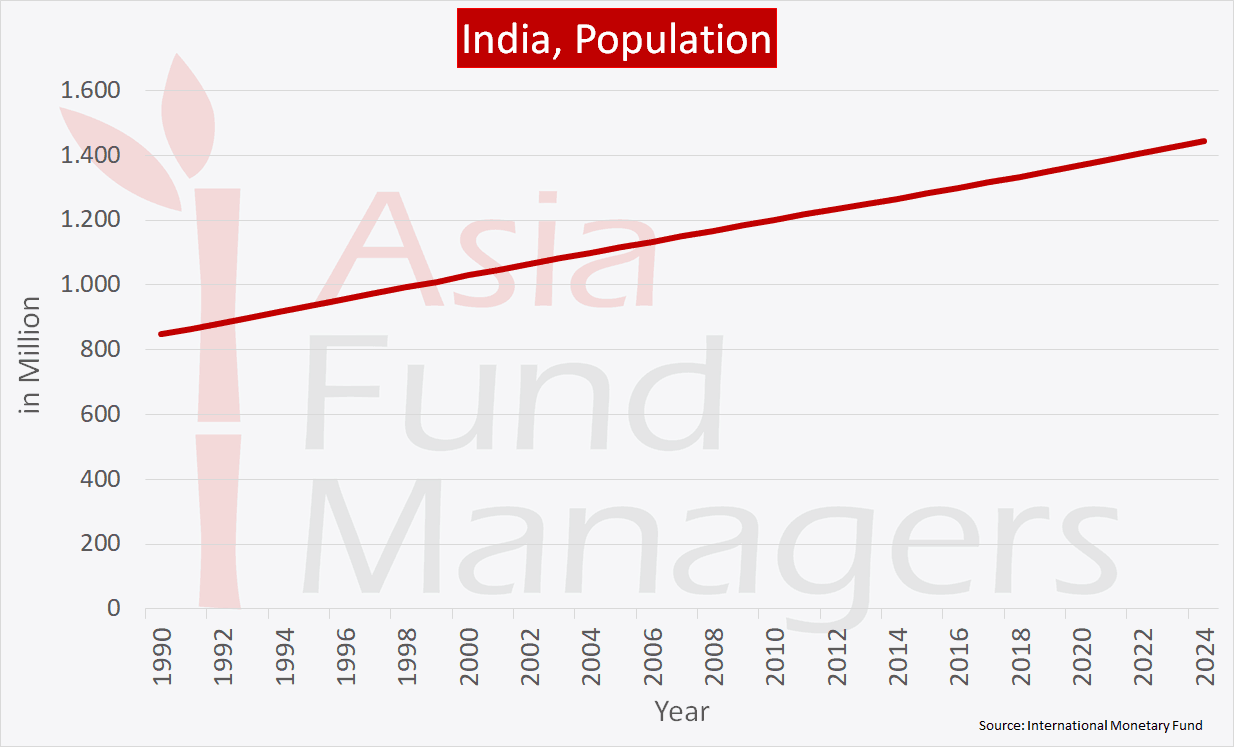 While unemployment is relatively low at 7.3%, income and wealth distribution is extremely poor in India. There is huge variation across the country in terms of social factors, with some of this being catalysed by the caste system, which would appear antiquated and morally questionable to many Western observers. Thus, the richest 1% of Indians own 58.4% of wealth, and the richest 10% of Indians own 81% of the country's wealth.
Currency and Central BankIndien-Inflation-durchschnittliche-Verbraucherpreise.png
The Central Bank of India is based in Mumbai, which is by far the most important urban area in the country. The central bank was recapitalised in 2009, along with 17 other public sector banks. The Central Bank of India was established on 21st December 1911 by Sir Sorabji Pochkhanawala, with it later being nationalised by the Indian government in 1969.
Monetary policy in India has been particularly focused at achieving price stability, which is seen as critical in a country in which poverty remains such an enduring problem. Inflation has recently spiked in the country, and this has caused the central bank to put interest rate cuts on hold, despite continuing economic growth in India.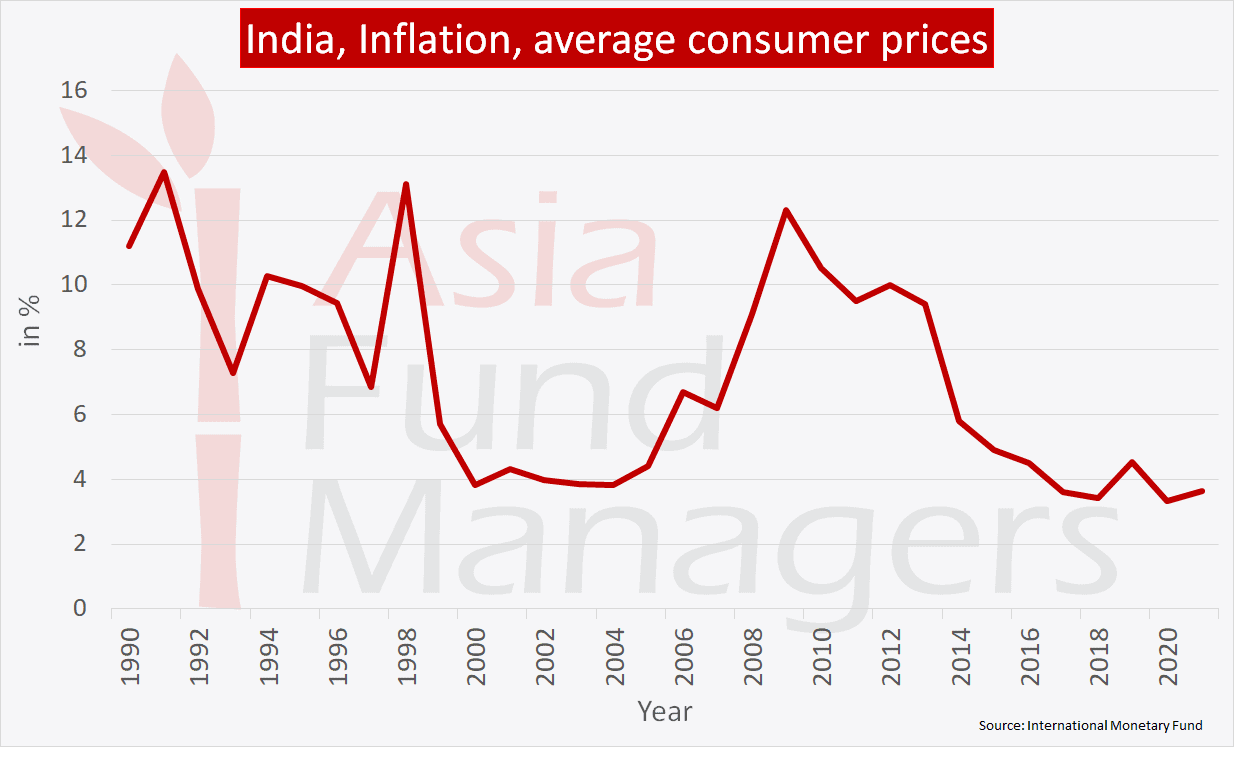 Industry and Trade
Historically, agriculture has been an extremely important industry in India, both in terms of feeding the population and as an export entity. And this remains the case today, with agriculture still arguably the most significant industry in India. Despite the rapid industrialisation of the country, over 60% of the Indian population is rural, and continues to be dependent on native agriculture. Consequently, food grain production in India reached a record 284.83 million tonnes in 2018.
However, the other areas in which India excels are indicative of its continued modernising. India is already one of the most important aviation markets in the world, and is set to surpass the UK to become the third most important by 2024. By 2020, annual traffic at Indian airports is expected to reach 420 million passengers, up from 308.75 million in 2017-18. The automobile sector is also important for India, while assets held by public sector banks in the country has already exceeded $1.5 trillion.
India also has a prominent service sector, which accounts for over 55% of GDP. India's largest trading partners are China, USA, UAE, Saudi Arabia, Switzerland, Germany, Hong Kong, Indonesia, South Korea, and Malaysia. India also has free trade agreements with several nations, including ASEAN, SAFTA (South American Free Trade Area), Mercosur (Mercado Común del Sur – Common Market of the South), South Korea, and Japan. The current account balance of India is $6.3 billion in the red, according to the most recent figures.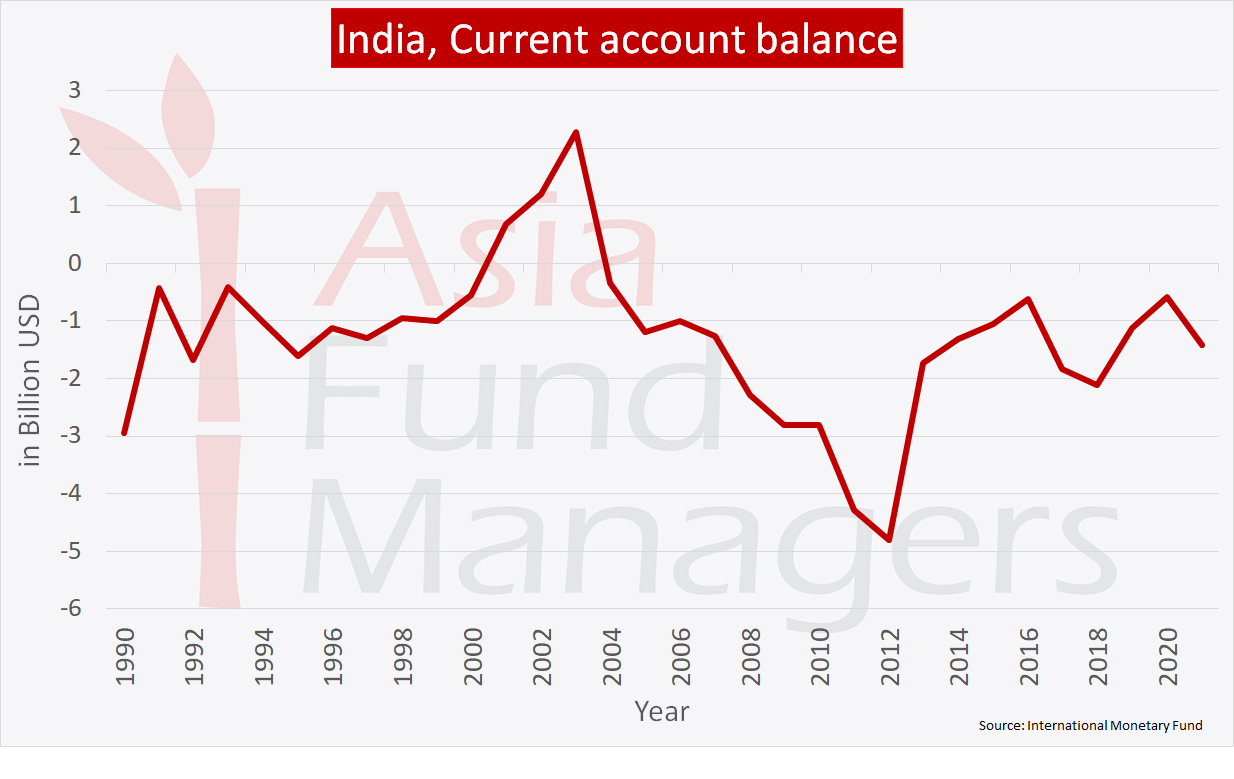 Surveys and Rankings
India fell 10 places to 68th in the most recent Global Competitiveness Index compiled by the World Economic Forum. According to this numbers, India is among the worst-performing BRICS nations along with Brazil which landed in rank 71. While India ranks high in terms of macroeconomic stability and market size, the delinquency rate is high.
In the World Bank's Ease of Doing Business ranking, India moved up 14 places to be ranked 63rd among 190 nations. Compared to its BRICS fellows, the Indian economy ranks third after Russia (28) and China (31). South Africa (84) and Brazil (124) are in the second third of the ranking.
India has work to do in order to encourage more economic freedom, being ranked the 129th freest in the 2019 Index of Economic Freedom. India is ranked 31st among 43 countries in the Asia–Pacific region.
Stock Exchanges and Capital Markets
By far the most important stock exchange in India is the National Stock Exchange of India Limited, which is located in Mumbai. Established in 1992, the National Stock Exchange (NSE) has a total market capitalisation of more than US$2.27 trillion, meaning that it is just outside of the top 10 stock exchanges in the world. The Narendra Modi government has been notable for deregulation of the stock market, and this has helped accelerate foreign investment in recent years.
The most important indices in India are the equity benchmark index Sensex and the NSE Nifty. The BSE Sensex lists the 30 largest companies traded on the Mumbai stock exchange. The broader Nifty lists the top 50 companies in terms of free-float market capitalisation that are traded on the NSE.
In addition, there are sectoral indices, such as BSE Bankex and CNX IT, market capitalisation-based indices, such as the BSE Smallcap and BSE Midcap and broad-market indices, such as BSE 100 and BSE 500.
The Indian economy boasts some hugely successful energy companies, with Coal India, Tata Steel, Hindustan Petroleum Corporation, Bharat Petroleum Corporation, and Oil and Natural Gas Corporation all being among the most important corporations in the country, with Indian Oil Corporation being the largest. Reliance Industries is another highly ranked industrial conglomerate that is particularly important in India.
Bond market
The bond market in India is divided into two categories – retail and wholesale. The main products traded are bonds, government securities, and shares. Separate segments are made available for government securities and corporate bonds, while fixed tenure bonds, tax-free bonds, taxable interest bonds, and perpetual bonds are all available.
Overseas investors continue to seek greater access to Indian bonds, considering the high yields available. But liberalisation has been relatively slow, with overseas sources holding just 3.7% of the almost Rs 60 trillion ($835 billion) of sovereign bonds issued by India. This is partly due to the fact that the government has set a 6% limit on foreign ownership.
Real Estate Market
According to the India Brand Equity Foundation, India's real estate market is expected to reach a market size of $ 1 trillion by 2030 from $ 120 billion in 2017. However, despite this promise, the sector remains plagued by uncertainty, despite attempts to liberalise foreign direct investment. The government of India has encouraged overseas investment in real estate, and this economic sector is expected to account for 13% of GDP by 2050.
According to global property consultant Colliers, investment in India's real estate rose 8.7 per cent in 2019 compared to 2018, reaching $6.2 billion. About 78 percent of the total investments last year are said to come from foreign funds.
House prices in India vary rapidly depending on location, with certain areas of Mumbai being more than twice as expensive as any other locale in the entire country. Generally, rural areas of the country are more affordable, although the level of poverty in the country means that many millions of Indians have no realistic prospect of owning their own home.