Japan small cap funds give investors exposure to under-appreciated companies operating in one of the world's largest and most competitive economies.
Investing in Japanese small caps also means exposure to long-term fundamental trends in Japan, such as domestic innovation, rapid ageing, and digital transformation.
And active managers have a unique opportunity: Research coverage is skewed toward to large-cap names, so active managers in the Japan small cap space can identify opportunities that may be under-appreciated in the market.
Here we profile two of the largest active funds operating in the Japanese small cap market: Janus Henderson's Horizon Japan Small Caps Fund and BlackRock's Japan Small & Mid-Cap Opportunities Fund.
Janus Henderson Hrzn Jpn Smr Coms A2 USD
Janus Henderson's Horizon Japan Small Caps Fund has been operating since 1985 and had total assets under management (AUM) of EUR 274.8m, as of May 11, 2020, making it the smaller of the two profiled funds.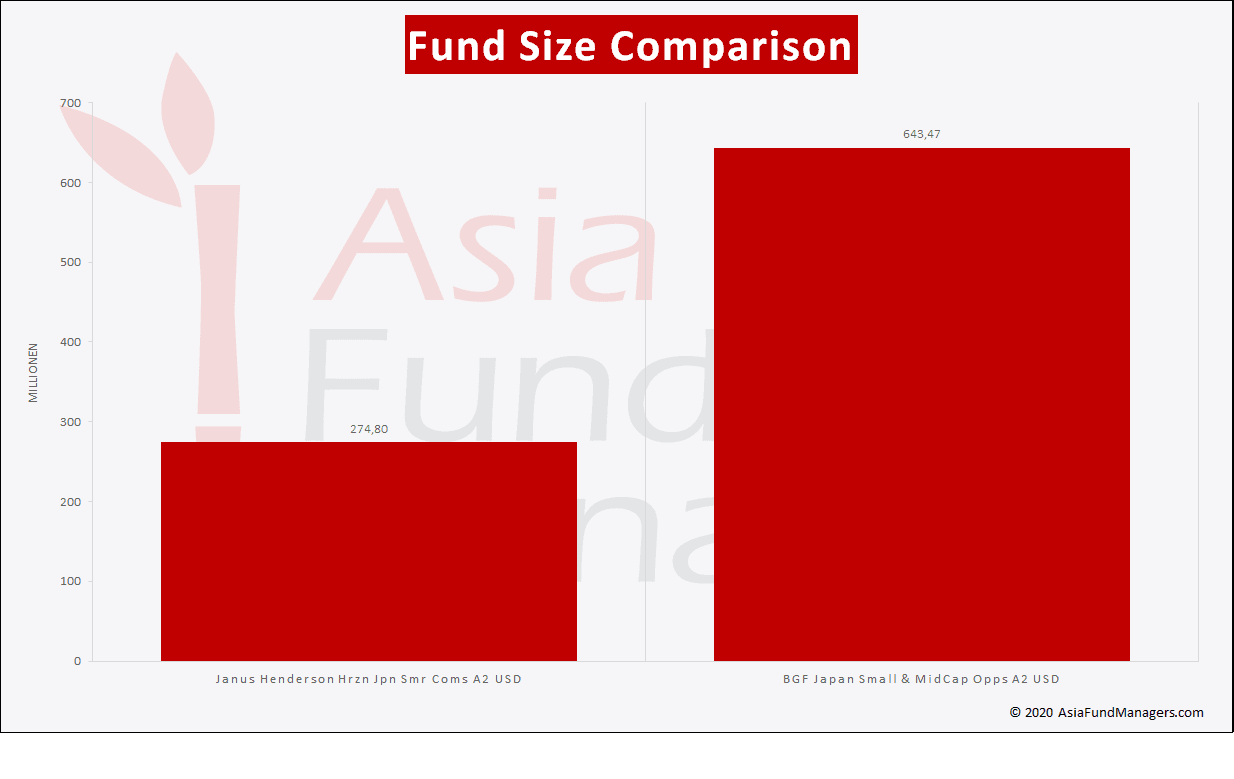 Managed by Singapore-based Yun Young Lee since 2005, the fund allocates at least two-thirds of capital to companies with market caps that fall in the smallest 25% of the Japanese market and benchmarks against the Russell/Nomura Small Cap Index.
A concentrated strategy tilted to materials and IT, but underweight consumer
Top ten holdings account for 43.6% of the total allocation, indicating a highly concentrated strategy.
As of March 31, 2020, the fund was overweight to materials (fund: 16.8%, benchmark (BM): 10.3%), information technology (IT) (fund: 16.7%, BM: 11.3%), and communications (fund: 7.0%, BM:3.8%) sectors.
The fund was underweight industrial (fund: 21.5%, BM: 25.6%), consumer discretionary (fund: 12.6%, BM: 17.2%), and consumer staples (fund: 8.9%, BM: 10.5%).
Better score than Blackrock, but doubts remain about sustained alpha delivery
In AsiaFundManagers.com's fund scoring*, Janus Henderson's Horizon Japan Small Caps Fund scores 68.00 out of 100.
Importantly, the fund's 1yr performance and information ratio is a stand-out, because of excellent twelve months where the fund generated a return of 21.9%.
However, doubts remain about this strategy's ability to consistently deliver alpha, given variation in information ratio scores over a one, three and five year performance period.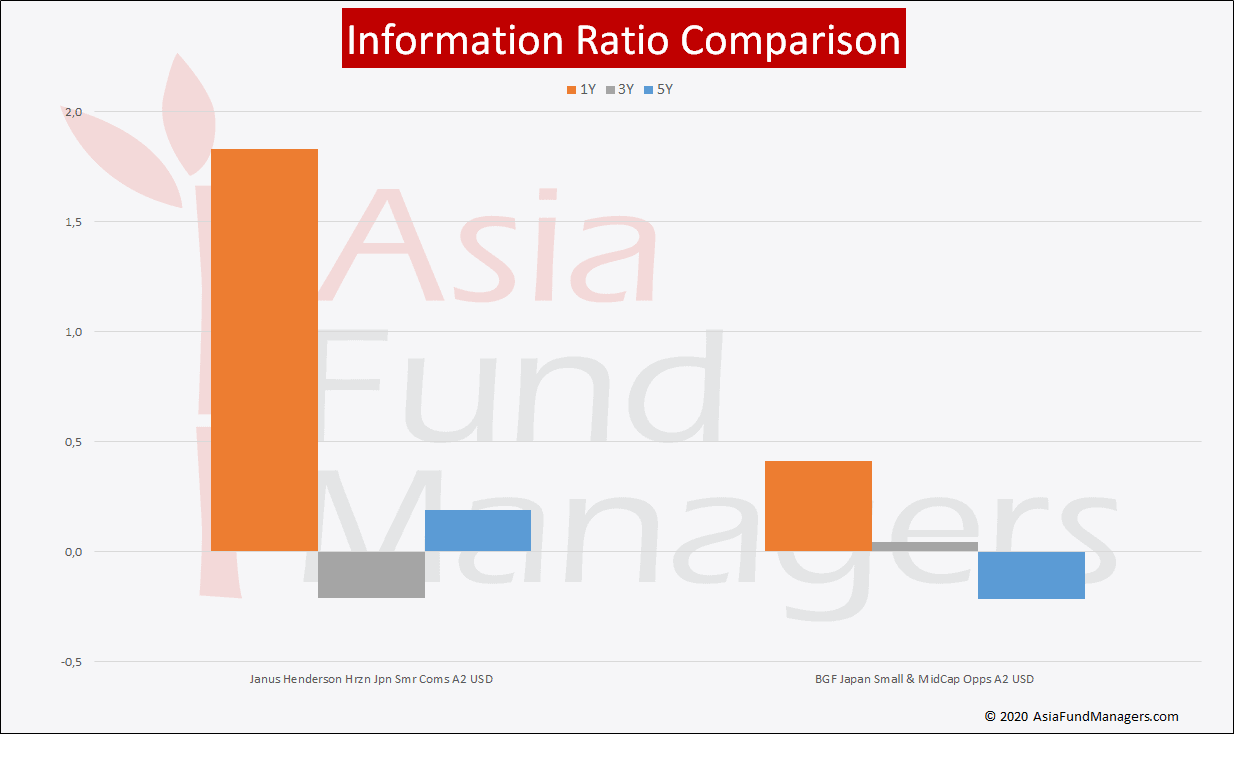 Additionally, the company's official website shows that the fund only relies on one dedicated analyst to cover the Japanese equities space.
This raises concerns both about key man risk and the ability of the strategy to repeatedly identify alpha opportunities.
Additionally, the fund's methodology appears to be based on a series of quarterly management interviews, which may raise questions as to how agile the fund is in adapting to changing circumstances.
BGF Japan Small & MidCap Opps A2 USD
BlackRock's Japan Small & Mid-Cap Opportunities Fund has AUM of EUR 643.5m, has been running since May 13, 1987 and charges the highest fees of the two profiled funds.
Managed since October 2014 by Tokyo-based Hiroki Takayama, the fund invests up to 70% of capital into a selection of small-to-mid cap companies from the smallest 30% of companies by market capitalization on the Japanese market.
Less concentrated, focused on Industrials & IT
The fund's top 10 holdings account for 19.8% of the allocation, indicating it is much less concentrated than the competing Janus Henderson fund.
As of March 31, 2020, the fund had overweight sector positions in industrials (fund: 24.9%, benchmark (BM): 24.2%), and IT (fund: 18.9%, BM: 12.6%).
The fund was underweight consumer discretionary (fund: 10.9%, BM: 13.9%), consumer staples (fund: 10.1%, BM: 11.1%), and real estate (fund: 6.2%, BM: 8.7%).
Poor long-term alpha performance, higher fees
In our fund scoring, BlackRock's Japan Small & Mid-Cap Opportunities Fund scores 48.5 out of 100.
The fund's fee structure is a key detractor here, with more expensive management and transaction fees.
In terms of returns, the Blackrock fund outperforms over three-years, but underperforms over one and five years as well as YTD, indicating an inconsistent capacity to deliver returns.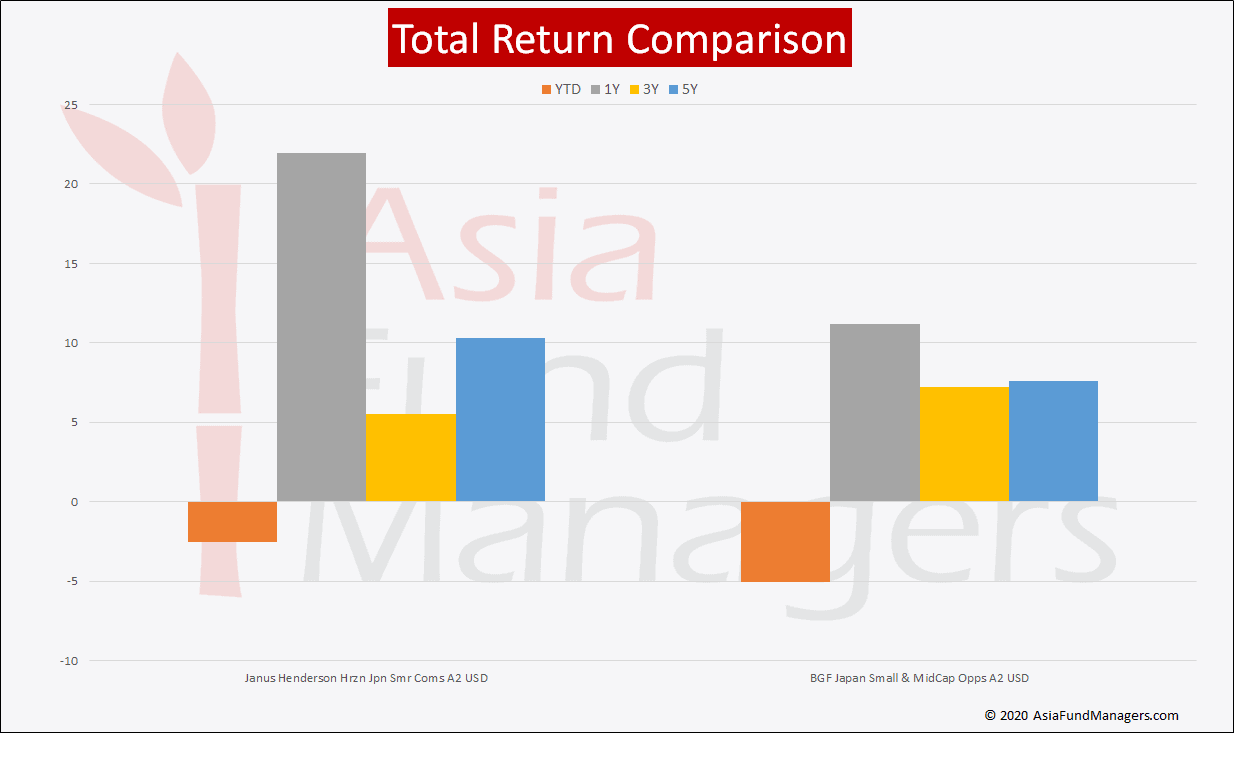 Finally, the fund registers a negative information ratio over five years, showing that the fund underperforms in alpha generation.
One clear winner, but many issues remain
For best returns and lowest management and transaction fees, investors may prefer to choose the Janus Henderson Horizon small cap fund based on its track record.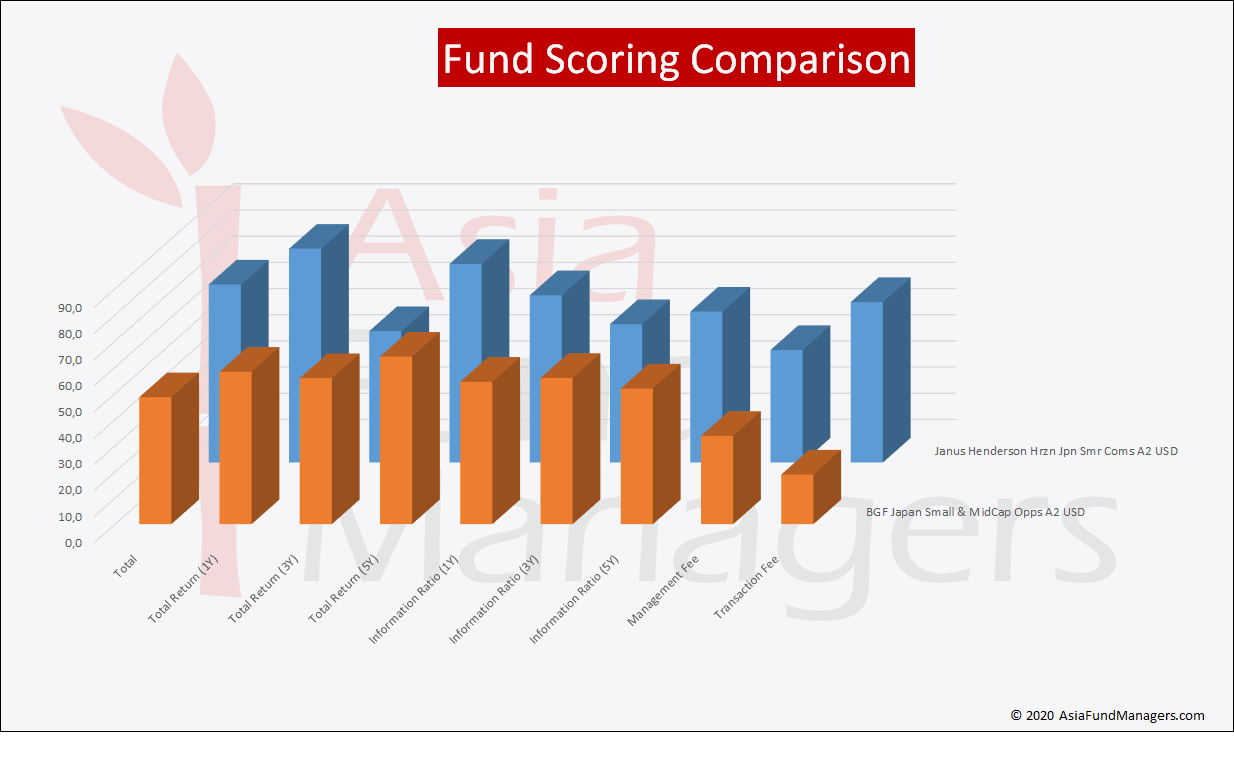 That said, investors may question issues of key man risk and team depth within the Janus Henderson strategy, as well as the 10% performance fee – particularly in light of a low, long-term information ratio.
Additionally, investors must decide whether they are comfortable with the more concentrated approach of the Janus Henderson strategy, or the less-concentrated approach of Blackrock.
Ultimately, investors must also be convinced of the case for active management within the Japan small caps space. For some, passive, index-linked strategies (Japan ETF) may be a cheaper and more effective choice.
*About the Fund Scoring
To help investors find the best investment funds from a variety of registered products, the AsiaFundManagers.com team has developed its own quantitative fund scoring system. The Fund Scoring is based on current scientific findings on the quality of actively managed investment funds. An algorithm is used to weight different factors that provide information about the quality of the fund. The parameters include return, risk and cost ratios. The Fund Scoring calculates 8 sub-indices and an overall score, which is made up of the weighted sub-indices. Investment funds can achieve a maximum of 100 points for sub-indices and the overall score.