The South Korea economy is the 4th largest in Asia and the 12th largest in the world. South Korea, or the Republic of Korea, is credited with a meteoric rise from being one of the poorest economics to a developed and high-income country in just a few decades. This economic growth, sustained since the 1980s, is dubbed the "Miracle of the Han River."
However, with a worldwide economic downturn due to Covid-19, also South Korea economic growth is expected to slow down. The International Monetary Fund (IMF) predicts the country's economy to shrink 1.2 percent this year. It said that the "forecast embodies Korea's comprehensive approach in containing the Covid-19 outbreak and quick economic policy response, which have helped mitigate the negative impact on domestic activity."
South Korea Economy Overview
The virus pandemic aside, South Korea's economy is expected to be an economy that will dominate the 21st century. After all, South Korea was one of the few developed economies to avoid a recession in the global financial crisis of 2009.
The economy's turnaround is in stark contrast to its condition after the Korean War ended in 1953. At this point South Korea's economy was destroyed and it was heavily dependent on aid from the US. South Korea joined the Organization for Economic Cooperation and Development (OECD) in 1996 and has since gone from strength to strength, often seen as a role model for other developing nations. The economic culture in South Korea is one of friendliness with other economies including its neighbours in Asia and it has an environment that is welcoming to investors.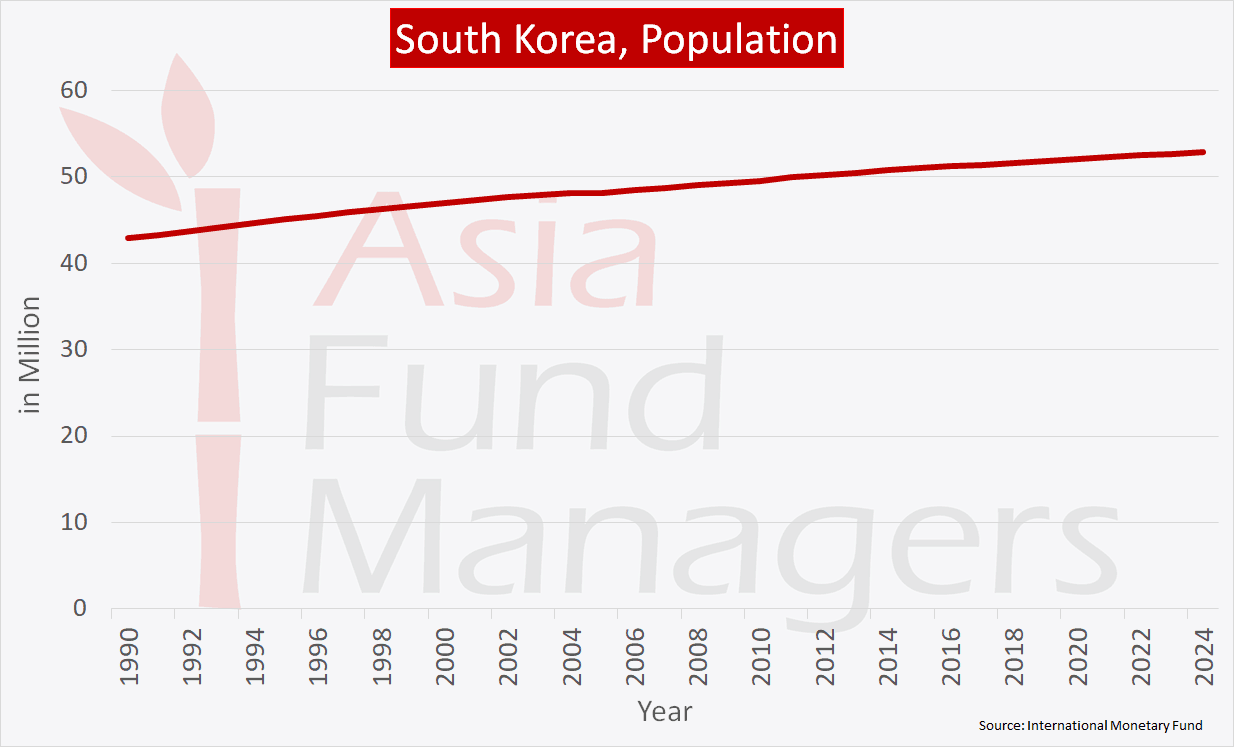 South Korea has a population of just over 51 million, it has relatively high population density and few natural resources. It has adopted the capitalist ways of the West and its economy features low unemployment, moderate inflation, export surplus and relatively equitable distribution of income. However South Korea does have an ageing population, a rigid labour market and is reliant on imports.
Excluding 2009, South Korea has seen GDP growth above 2%, and sometimes well above, for the past decade.
In 2019, South Korea saw a GDP growth of 2%. For 2020, due to Covid-19, the IMF predicts the economy to shrink 1.2%. If the pandemic is brought under control in the second-quarter of this year, South Korea's economy could grow again 3.4 percent in 2021.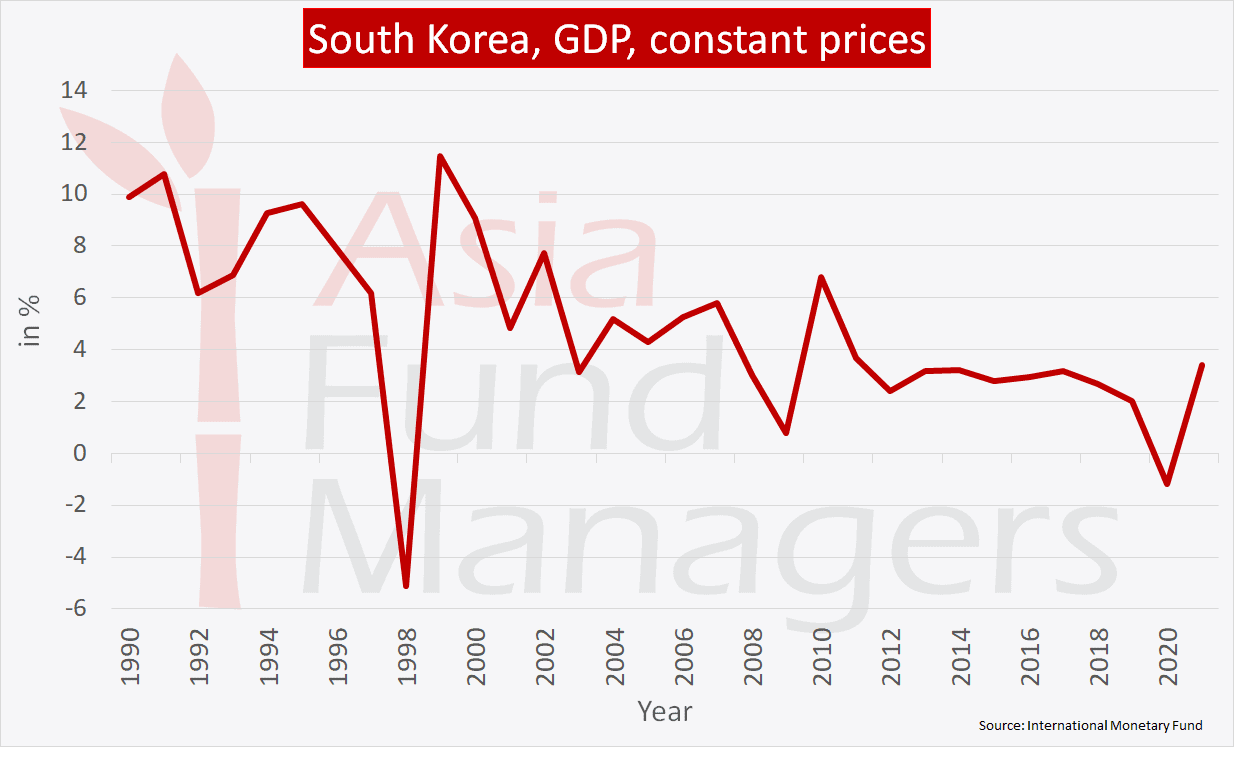 The perception of South Korea's economy and its stock market credit rating often suffer due to its proximity and historic relationship with North Korea. However, the IMF compliments South Korea on its resilience, its low state debt and its high fiscal reserves. The World Bank describes South Korea as one of the fastest growing next generation economics alongside the BRIC (or BRICS, with Brazil, Russia, India, China and South Africa) and Indonesia.
Currency and Central Bank
The official currency of South Korea is the South Korean won issued by the country's central bank, the Bank of Korea (BOK). A single won has the denomination of 100 jeon, however the jeon is no longer in everyday use but does appear in foreign exchange rates.
The Bank of Korea was established in June 1950 in Seoul and it is responsible for price stability in the economy. On that basis the bank targets inflation and controls it by interest rate adjustments. The 2016-2018 target for consumer price inflation was 2.0% and it remains so for 2020. However, Bank of Korea said that inflation may come in at 1% this year. In 2018 the inflation rate was 1.48% but in 2019 it reached a record low of 0.4% off the back of fluctuating consumer demand prompting expectations that the BOK would need to trim interest rates in 2020.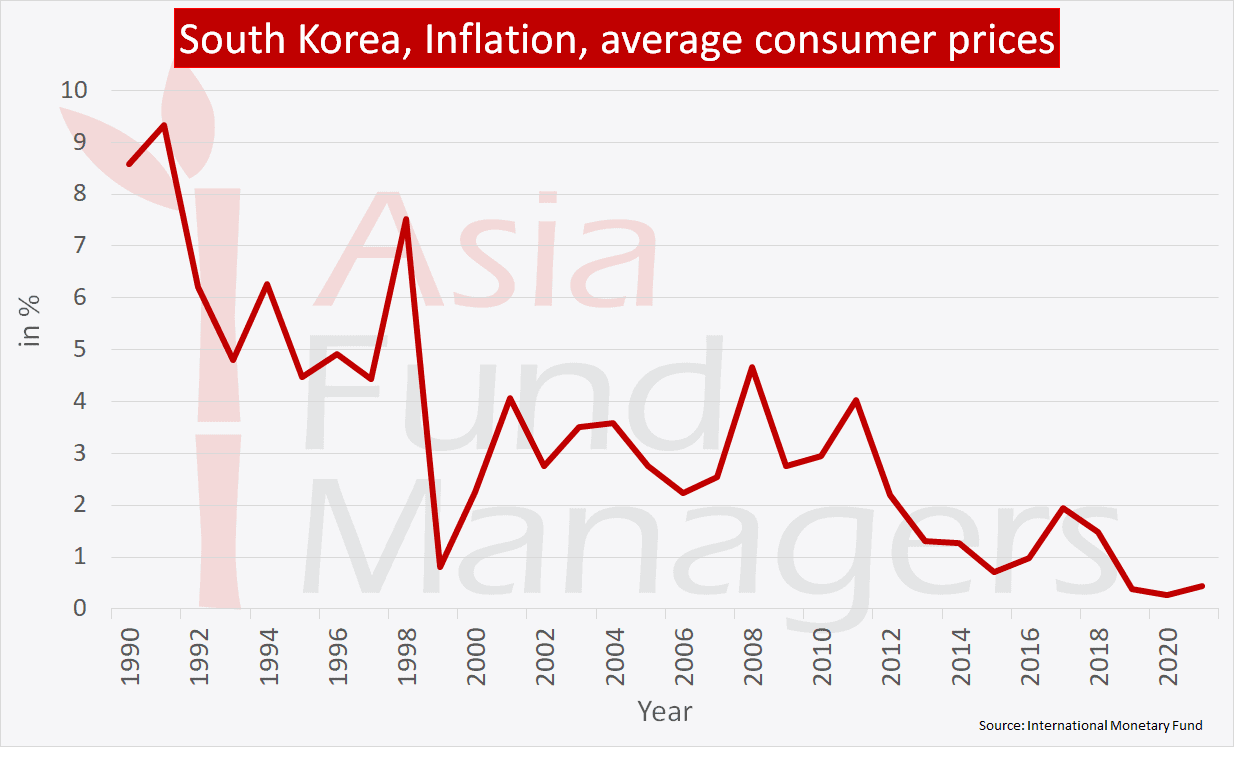 South Korean interest rates have been an average of 3.09% between 1999 and 2020. They reached an all time high of 5.25% in October 2000 and a record low of 0.75% in March 2020 as South Korea responds to the economic impact of the coronavirus.
Industry and Trade
South Korea's largest industries are electronics, automotive, telecommunications, shipbuilding, chemicals and steel. It's one of the largest global manufacturers of electronic goods including semiconductors and boasts companies such as Samsung Electronics Co. Ltd and Hynix Semiconductor (SK Hynix Inc.)
In the automotive industry, South Korea has Hyundai, Renault and Kia. The South Korea government has supported the country's technological growth making it a very active market for telecommunications and information technology companies. It has a strong mobile communications market and boasts the highest number of broadband services per capita in the world, meaning its citizens have easy access to their own technology.
In shipbuilding, South Korea is home to five out of the top ten global shipbuilding enterprises and Hyundai Heavy Industries Co. Ltd owns the largest shipyard in the world.
Manufacturing has been key to South Korea's economic growth with the industrial sector contributing usually in the region of a third or more to the country's GDP.
South Korea's service sector is a strong contributor to GDP, at nearly two thirds and employing around 70% of the country's workers. However, in contrast to other developed economies the percentage of the economy reliant on services is less than other nations which have an average of 86% of GDP supported by the service sector.
Survey and Rankings
The World Economic Forum (WEF) Global Competitiveness Report 2019 ranks South Korea at 13th in its Global Competitiveness Index of 141 countries. In 2019 South Korea moved up the rankings by two places.
The World Bank's Ease of Doing Business 2020 report puts South Korea in 5th place out of 190 countries and it is only superseded by New Zealand, Singapore, Hong Kong and Denmark.
Furthermore, the Heritage Foundation's 2020 Index of Economic Freedom puts South Korea 25th out of 180 countries.
Stock Exchanges and Capital Markets
The Korea Exchange (KRX) is the only securities exchange operator in South Korea. It was created after the integration of the Korea Stock Exchange, the Korea Futures Exchange and the KOSDAQ Stock Market when the Stock & Futures Exchange Act was passed. Under the KRX there is now the Stock Market Division, the KOSDAQ Market Division and the Derivatives Market Division.
In 2019 there were 2194 companies listed on the KRX with a combined market capitalisation of $1.9 trillion. KOSDAQ has similarities with the NASDAQ and it is the KRX's electronic trading platform. The Korea Composite Stock Price Index (KOSPI) is similar to the S&P 500, tracking the health of the exchange. There is a KOSPI 200, KOSPI 100 and KOSPI 50, as well as industry indices and LargeCap, MidCap and SmallCap indices based on market capitalization.
In South Korea it is possible to trade stocks, bonds, ETFs and real estate investment trusts (REITs) on the KRX. Foreign investors may designate custodian banks as standing proxies in order to access KRX trading.
Some of the largest publicly listed companies in South Korea include Samsung Electronics, SK Hynix, Hyundai Motor, Korea Electric Power, LG Chem and Shinhan Bank.
Bond Market
South Korea's bond market is one of the largest in Asia and its development is due in part to its progress towards market liberalization. There are both government and corporate bonds in South Korea. Government bonds include treasury bonds, Housing Bonds, and Seoul Metropolitan Subway Bonds. There are also central bank monetary stabilisation bonds and the Korea Development Bank issues financial debentures. The most traded class of bonds in South Korea is government bonds and these set the bar for bond yields.
Fixed income instruments are available to foreign investors in South Korea. The government issues bonds on a regular basis with 3, 5, and 10-year maturities.
Real Estate Market  
There has been an increase in foreign investment into the South Korean real estate market over recent years, though the market is regulated by the government. It's seen as a stable market and considered so since the 2007 financial crisis. For instance, in 2018 South Korea slowed the real estate market by raising interest rates, adding mortgage regulations and adding anti-speculative measures to cool house prices seen as "overheated" in cities like Seoul.
The global real estate expert CBRE expects real estate investment in South Korea to exceed 10 trillion won (ca. 8 Mio USD) in 2020 but this is down from a record high of 16 trillion won in 2019 (ca. 13 Mio. USD). However, the market is still on par with a five-year average. Low interest rates in South Korea and economic instability are expected to fuel real estate investments. REIT products are also likely to be popular as the government is also introducing tax benefits. Investment growth is expected in logistics facilities, data centres and rental housing.