With a weak global economy due to the Covid-19 pandemic, also Taiwan's economy is expected to decline. The International Monetary Fund (IMF) downgraded its projection for the Tiger State for this year to minus 4%. Critics say the IMF is too negative, e.g. not taking into account how well Taiwan has controlled the virus outbreak.
The private Taiwan Institute of Economic Research, for instance, lowered its forecast for Taiwan's economic growth from 2.67% to 1.58%.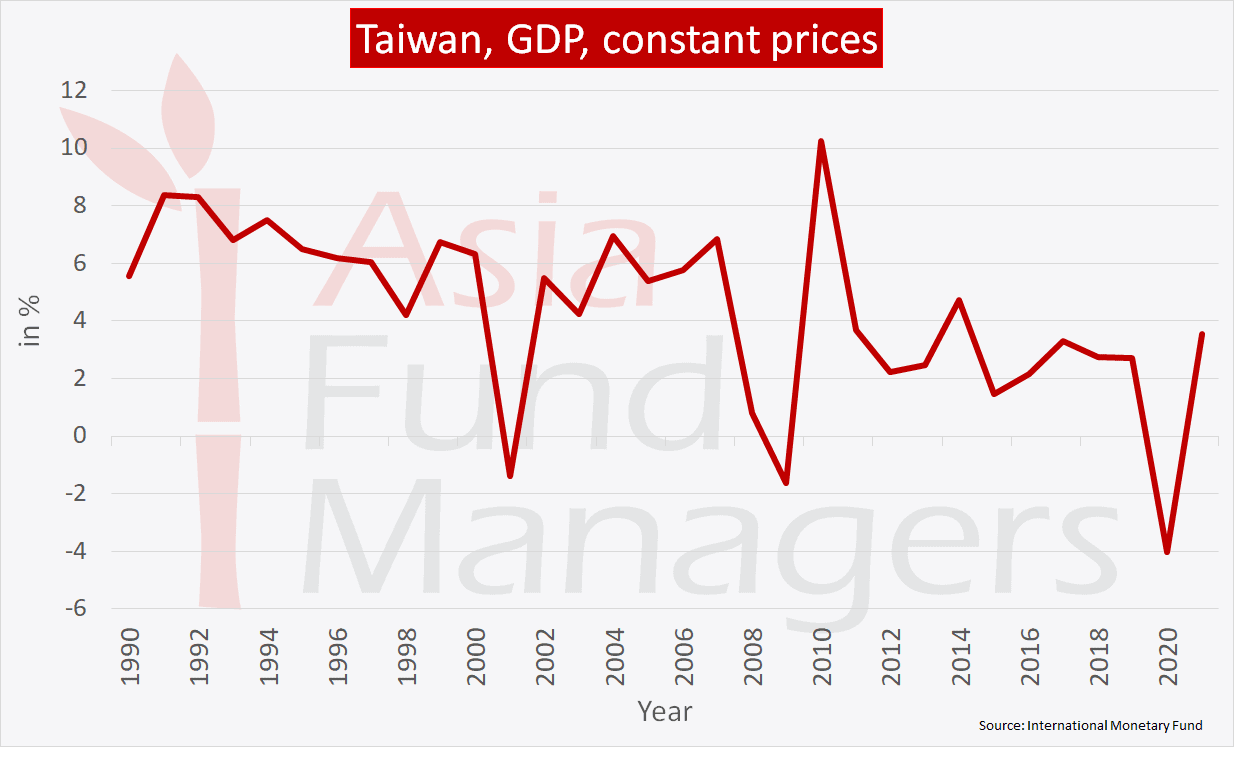 But let's have a look at Taiwan's economy in general.
Taiwan Economy Overview
Taiwan, officially the Republic of China, is a small but significant country located in East Asia. Its surface area is only 35,808 square kilometres, and its population is only 23.7 million, but Taiwan has nonetheless achieved economic success. Nonetheless, due to its compact nature geographically, Taiwan is among the most densely populated states worldwide.
The Taiwan economy is fully developed, currently ranked seventh largest in Asia and 22nd-largest in the world by purchasing power parity. The IMF considers it to be an advanced economy, and the country has achieved this primarily by becoming a tech industry manufacturing powerhouse.
Real GDP growth in Taiwan was 2.7% during 2019. Historically, this was much smaller than the approximately 13% growth that the country experienced during one quarter of 2011, at the peak its financial expansion. But as the nation's economy receded in size during 2016, it can still be considered a solid step in the right direction.
Taiwan population expected to reach peak in 2024
With a population density of about 651 inhabitants per square kilometre, Taiwan ranks as the 17th most densely populated nation. The population of the country increased by 700% during the 21st century. However, fertility rates in Taiwan have plummeted, and the country is struggling to retain its existing population. Indeed, the population of Taiwan is projected to peak at about 23.7 million in 2024 and decrease thereafter.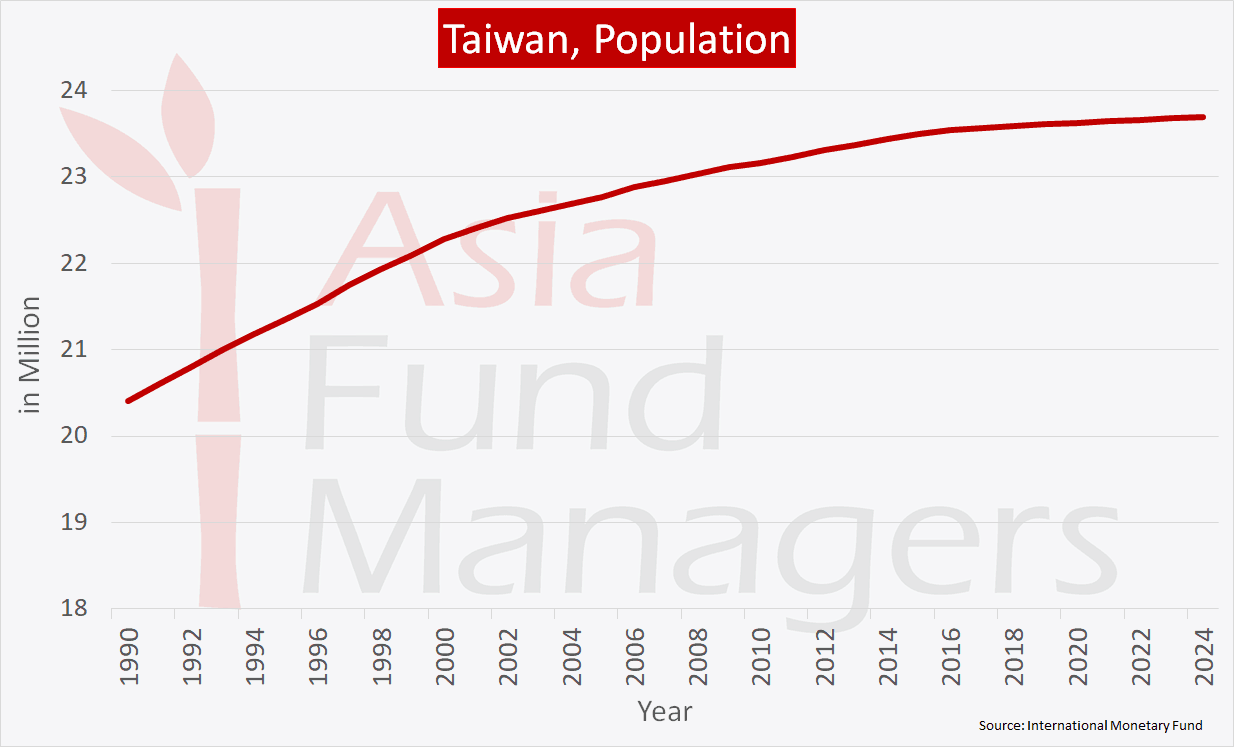 The unemployment rate in Taiwan has been pretty low in recent years, being recorded at 3.8% in 2019. For 2020, the IMF predicts a rise to 4.4% due to the coronavirus pandemic.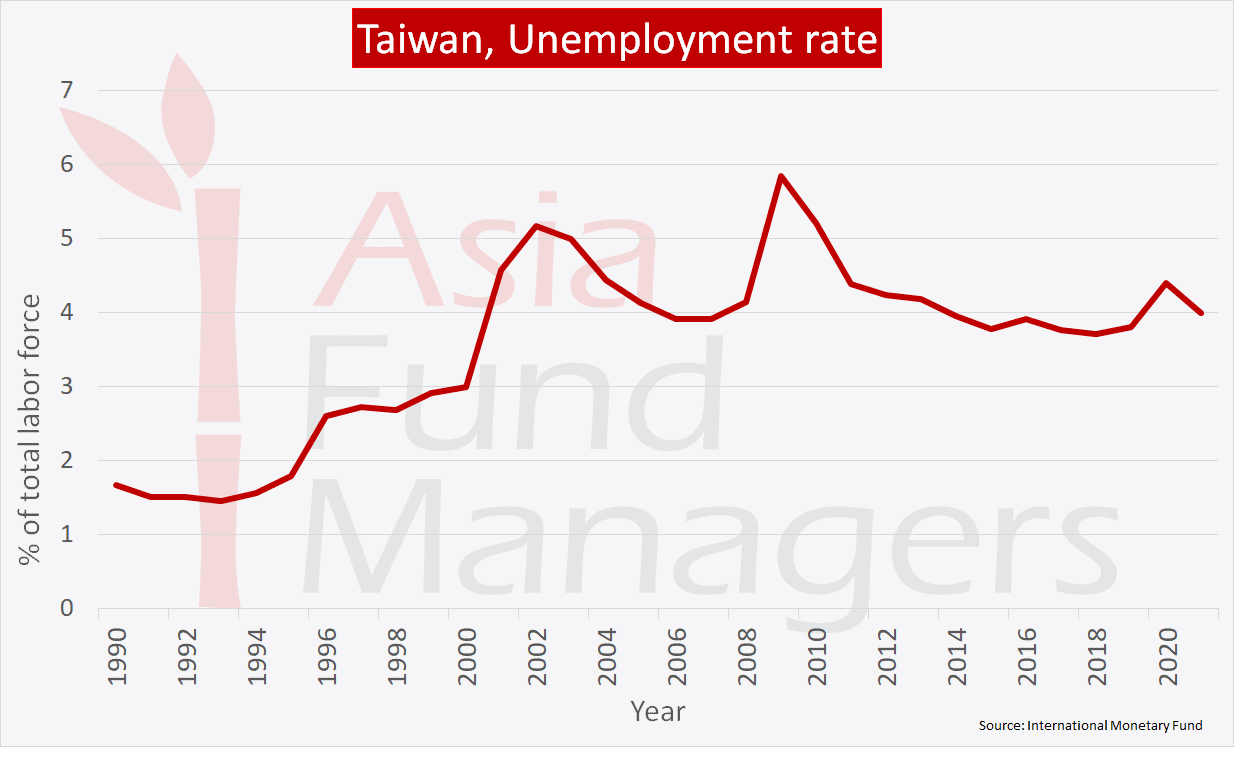 Currency and Central Bank
The Central Bank of Taiwan has enjoyed a colourful and complex history, having originally been proposed by Sun Yat-sen's administration in Guangzhou in 1923. Having been impacted by the Second World War, the bank was reinstated in 1961, although its organisation was rejigged by the Chinese authorities following the Central Bank of China Act of 1979. Unusually for a central bank, the Central Bank of Taiwan is not directly responsible for issuing currency.
In recent years, the Central Bank of Taiwan has enacted a cautious policy with interest rates, keeping them at the same level for some years. At the end of 2019, interest rates had been frozen for 18 consecutive quarters. However, the recent coronavirus pandemic has led the country to trim its interest rates to 1.125%, although many market observers believe further cuts will follow imminently.
Inflation in Taiwan has been quite low, with the figure under 1% in 2019. This is a little lower than has been the case in recent years, although Taiwan experienced a temporary deflation in prices during 2016.
Industry and Trade
Several industries vie for economic productivity in Taiwan. The service sector, agriculture, manufacturing, and import / export are all considered important for Taiwan. Agriculture in particular has always been important to Taiwanese society, and one-quarter of the country's land remains devoted to this industrial sector.
However, Taiwan has become a global powerhouse in technology, and is by some distance the world's most sophisticated producer of semiconductors. The tech base that Taiwan has built has meant that many of the most recognisable consumer electronics products in the world are at least partially manufactured there. And massive corporations are hugely reliant on the expertise and knowledge that Taiwan has built up.
International trade in Taiwan is officially assisted by the Taiwan External Trade Development Council. And the authorities have achieved a modern trading profile for Taiwan, although the country is a particularly successful exporter of a variety of goods and products.  Since the 1990s, the Taiwan economy has adopted economic liberalisation with the successive regulatory reforms, and this has aided its trading profile.
Taiwan is a member of the Asian Development Bank, the World Trade Organization (WTO), and the Asia-Pacific Economic Cooperation, while being an observer at the Organisation for Economic Co-operation and Development. The Tiger State signed the Economic Cooperation Framework Agreement with People's Republic of China in 2010, and also entered into a free trade agreement with Singapore and New Zealand.
Taiwan is seeking to join the Trans-Pacific Partnership, although this has been delayed. Historically, Taiwan's top five trade partners have been China, Japan, USA, the European Union, and Hong Kong. The country exported $348 billion worth of goods in 2018. Taiwan's current account balance was estimated at US$82.88 billion in 2016.
Surveys and Rankings
The Taiwan economy ranks 12th among 141 economies in the latest Global Competitiveness Report, which is authored by the Geneva-based World Economic Forum. Scoring 80.2 out of 100, Taiwan finished ahead of neighbours South Korea, 79.6; Malaysia, 74.6; and China, 73.9, but behind Singapore, 84.8; Hong Kong, 83.1; and Japan, 82.3.
The Taiwan economy is ranked a healthy 15th in the Ease of Doing Business index, and has been in the top 20 since 2013. However, it peaked at 11th  in 2017, and has slid slightly in recent years.
Again, Taiwan scores healthily in the Index of Economic Freedom, being ranked 11th worldwide by the Heritage Foundation. This was a small fall of one place from its tenth place finish last year, although its 77.1-point result was almost identical to last year's score.
Stock Exchanges and Capital Markets
The Taiwan Stock Exchange Corporation is the sole stock exchange in Taiwian. It has an approximate market capitalisation of NT$ 24,519,622 million (US$810 billion). The Taiwan Capitalization Weighted Stock Index measures the performance of aggregate listed stocks on the stock exchange. It was first published in 1967.
According to the Fortune Global 500, is Hon Hai Precision Industry, an electronics firm, the biggest in Taiwan. Most of the major companies are involved in electronics and semiconductors, with the top five companies – Hon Hai, Pegatron, Taiwan Semiconductor Manufacturing, Quanta Computer, and Compal Electronics – all involved in these industries.
Oil and Gas and insurance also appear among the top 10 Taiwanese firms, with CPC Corporation, Cathay Life Insurance, Fubon Financial Holding, and Formosa Petrochemical completing the list.
Bond Market
The total size of the bond market in Taiwan is US$188 billion. Its market can be contradictory at times. Although the market is large in size, trading volume is notably small. In order to stimulate growth in trading, market observers have called for the abolishment of the 0.1% bond transaction tax.
In general terms, the local economy in Taiwan is insufficient to accommodate bond market investment, so Taiwanese financial institutions have funnelled an incredible US$1.2 trillion overseas. Because of restrictions and the general lack of activity, the Taiwanese bond market does not attract a huge amount of overseas capital.
Real Estate Market
The real estate market in Taiwan has fallen quite significantly in recent years. The price of housing slumped in consecutive years between 2015 and 2019. There were several factors behind this recession in prices, but one was undoubtedly the fact that real estate  is very expensively priced in relation to the wealth of the local population.
For example, Taipei's house price-to-income ratio has rose from just 6.4 in 2004 to around 15.5 currently, according to the country's Ministry of Interior. This is much higher than London (8.5x), New York (5.7x), or Sydney (12.9x).
The average rent for a one-bedroom apartment in Taiwan is around $460 per month, while the same property would sell at approximately US$8,885 per square metre. This is lower than most Western countries, but as wages are far lower, the market is currently extremely unaffordable for native residents, and indeed is largely propped up by foreign investment, particularly from China.