The recession across ASEAN has been sharp, but the rebound next year should be strong, says Robert St. Clair, Strategist at Fullerton Fund Management, in his ASEAN equities outlook 2021.
The recession across key global markets, like China, the US, Europe, and Japan, has already ended with gross domestic product (GDP) growth returning to positive. Because of its dependence on external demand growth and tourism, ASEAN is lagging, but its recession should end around Q4 2020.
ASEAN GDP is projected by the International Monetary Fund (IMF) to fall by 3.4% this year, which is less painful than the expected global slump of a 4.4% fall in GDP. The forecast rebound in ASEAN growth next year is stronger than the rest of the world (6.2% versus 5.2% YoY) which is positive for the region.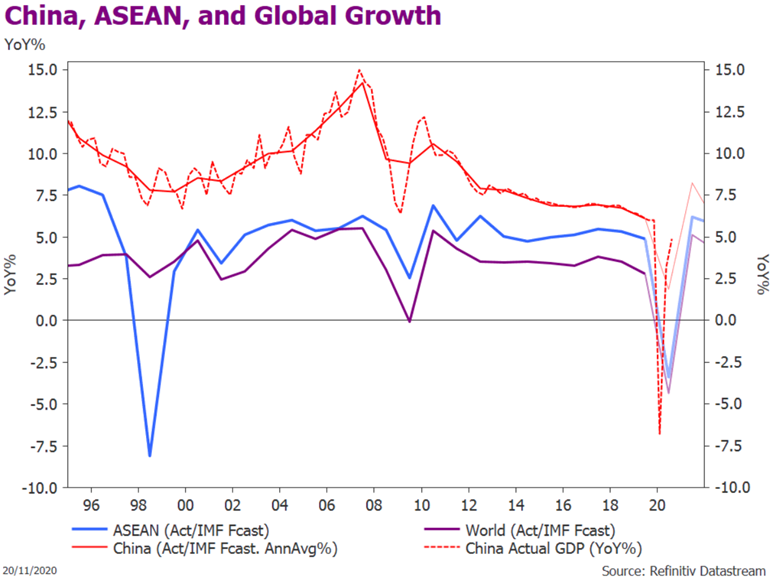 The macro backdrop has played-out in equity market performance. The strongest performing markets across Asia have been a) those best able to contain new Covid-19 infections (e.g. North Asia), b) those able to provide significant policy stimulus (such as Malaysia and Singapore) and c) those less impacted by very weak tourism and export demand, especially from developed markets (e.g. Thailand which has suffered significantly from its high sensitivity to weak tourism demand).
The earnings growth rebound has been solid
Encouragingly, all equity markets across ASEAN have recovered to within 10-20% of pre-Covid year to date highs. Additional gains will likely come through as stronger GDP growth is realised, and as confidence builds surrounding a Covid-19 vaccine – which should give a significant boost to sectors like tourism (which are so important to ASEAN performance).
The peak fall in YoY MSCI 12-mth forward expected Earnings per share (EPS) growth for Asian markets was about 10%, which was less than the global fall of around 20%.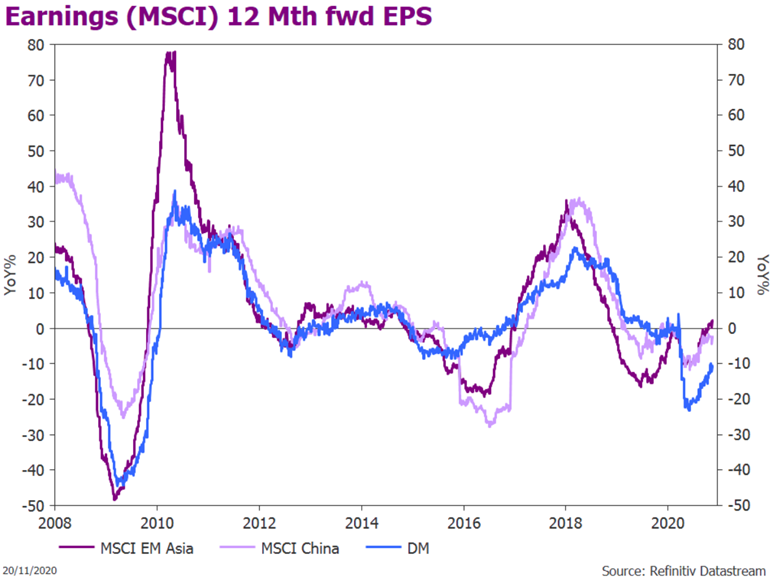 Laggards and leaders for investors – some positive trends that should continue into 2021
We are bullish on Asian equities and we favour the sectors that seem best positioned to navigate the 'new-normal' post Covid-19 environment e.g. technology, consumer staples, utilities, and healthcare. Technology, especially in China, will benefit from 5G network roll-outs, as well as on-going shifts toward e-commerce and stronger middle-class spending. As the rebounds in growth gain momentum, some sectors that have been lagging, such as industrials and financials, may provide some 'catch-up' buying opportunities.
ASEAN benefits significantly from a stronger China
The strong rebound in industrial metal prices, and raw materials, signals that China's industrials and its 'older economy' type stocks are set to improve, which will also serve to broaden the rally. That is positive for ASEAN because stronger demand in China has been a key driver of the rebound in intra-Asian trade growth.
China's manufacturing sector is still evolving, and as China further expands its global market share into higher-tech, more capital-intensive industries (such as paper products, chemicals, electrical equipment, machinery, and pharmaceuticals) then ASEAN economies will also benefit from greater contributions to China's supply-chain.
We are already seeing some cyclical rotation back to value-stocks, but the trend outperformance of growth stocks is likely to continue in an environment where interest rates are low, and the strongest companies gain market share.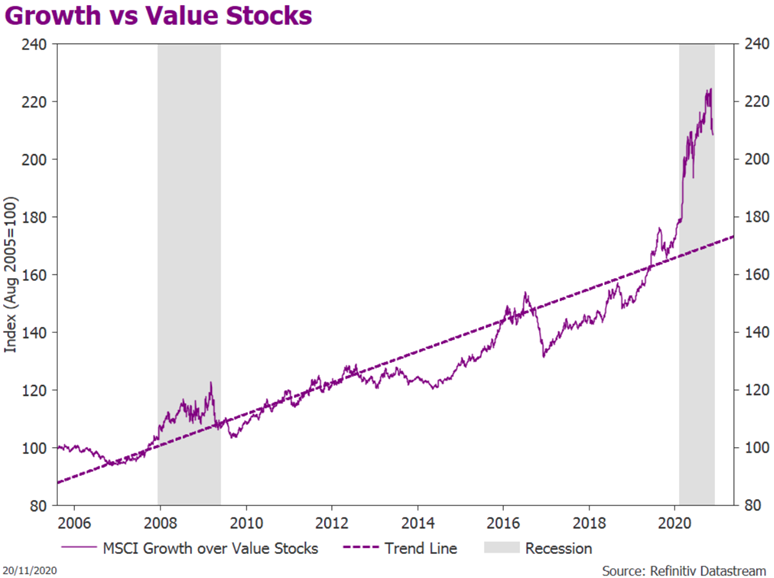 Geopolitical risks remain significant, but new trade agreements are exciting for ASEAN investors
The structural trend of less globalisation is likely to continue, and US-China relations, in particular, are likely to remain strained. That said, under President Biden, Asia may benefit from less hawkish US foreign-policy settings over time.
There are also likely to be significant positive offsets to geopolitical risks from new trade agreements. One of the most interesting for ASEAN is the Regional Comprehensive Economic Partnership Agreement (RCEP, November 2020) – signed between ASEAN, China, Japan, South Korea, Australia and New Zealand.
The RCEP agreement encompasses around 30% of global GDP and will seek to cut tariffs and promote free-trade access. Such trade agreements certainly harmonise with China's 'One Belt, One Road' initiative, and are likely to serve to defend and deepen Asian trade and supply-chains. Longer-term these agreements should be positive for ASEAN equities that are most leveraged to regional trade.
Robert St Clair
Strategist
Fullerton Fund Management
Robert is the Strategist at Fullerton Fund Management. He helps to formulate the global investment strategy and develop thought leadership content. Robert started his career in the mid-90s with the RBNZ, and moved to Singapore to work at the MAS, focusing on research and the monitoring of financial sector stability. He was then with the GIC for 10 years, as a Macroeconomist/Strategist in their Economics and Fixed Income departments, where his investment coverage included global equities, bonds, FX, and commodities.