The Covid-19 pandemic is a growing challenge to the economies out of the Association of Southeast Asian Nations (ASEAN) – a region which has shown steady growth in the past decade, beside 2020. We talked to Han Teng Chua, Economist and Radhika Rao, Senior Economist at DBS Group Research about the region's economic performance and its outlook.
AsiaFundManagers.com: How have ASEAN economies fared in the Covid-19 pandemic so far?
ASEAN suffered its worst recession in 2020 since the Asian Financial Crisis amid the Covid-19 crisis but is starting to normalise gradually. The divergence in the region's economic performance is largely driven by differences in the approach to health management and inherent economic structures. Vietnam outperformed during the early part of the crisis, with its real GDP levels already above pre-pandemic levels. This has been thanks to its success in pandemic management in 2020, while its highly open economy has enabled it to benefit from the incipient global external demand upswing. Amongst the underperformers, tourism reliant Thailand bore the brunt of ongoing international travel border restrictions. Domestically driven Philippines also lagged due to the huge economic cost arising from stringent economic lockdowns and high informality.
Most ASEAN countries endured a tough first half of 2021 as cases increased sharply, spurred by the highly transmissible Delta variant, necessitating most countries to reimpose strict lockdowns, impacting mobility, consumption, and industrial activity, but hurting contact intensive services most severely. Ebbing case count has since allowed for part of the curbs to be lifted as most countries shift focus to achieving vaccination of scale. Vaccination rates are the highest in Singapore and Malaysia and their approach to treating the virus as 'endemic' in 2H21 would allow for economic activities to gradually return to normalcy in 2022.
In other ASEAN economies, the inoculation pace is below desired rates but expected to play catch-up in 4Q21, and this should achieve some form of 'herd immunity' by next year, enabling a gradual domestic reopening. Into 2022, we expect ASEAN economies to gain further ground in economic normalisation. Key factors driving the pace of recovery include vaccination progress and plans towards economic reopening and 'living with the virus'.
AsiaFundManagers.com: Which economies are the most likely to improve their economic outlook in 2021/22?
ASEAN's externally driven economies such as Malaysia and Vietnam meanwhile are in a strong position to benefit from the rising global demand for electronics as Covid-driven factory disruptions ease amid an improving virus situation. In this regard, policymakers have initiated plans to restart manufacturing production and ensure safe factory operations, mainly focusing on vaccinating workers.
ASEAN's tourism hotspots are also set for a modest comeback in 2022. Tourism dependent Thailand has led the way by reopening Phuket to international tourists without quarantine based on fully vaccination status or negative test results. This would serve as a potential template for other countries to welcome back tourists.
However, we are mindful that international borders are still largely closed or only partially open for non-residents, making a swift recovery in the sector an uphill task. Our recovery expectations exclude disruptions in vaccine supply delivery and new surprises by the virus.
AsiaFundManagers.com: How has the coronanvirus surge impacted ASEAN financial markets?
Domestic financial markets reacted adversely to the onset of Covid-19 in early-2020, reflected in a sharp sell-off in equities, squeeze in sovereign yields and a drop in the respective currencies. A synchronous and strong policy response – monetary and fiscal – from regional economies bolstered investors' confidence, helping to stabilise indices by mid-2020. Tailwinds of ultra-accommodative policies by global central banks as well as the convergence of monetary policy rates at record lows pushed US rates to unchartered lows territory, keeping a lid on regional rates, as well weighing on the US dollar, providing a fillip to regional currencies. The >20% surge in the global money supply since early 2020, has provided a gush of liquidity to the regional markets, with foreign investors piling into China, India and Indonesia, amongst others.
After broad gains last year, movements are more nuanced in 2021, as domestic markets factor in local Covid situation, macro stability and policy room, with gains in India, Taiwan, South Korea and Singapore equities (in USD terms) leading the regional tally to date, whilst China/ Hong Kong SAR lag due to the recent regulatory clampdown and moderating growth. With the Fed expected to kickstart bond taper by end-year, regional bond markets will watch with trepidation, even as we expect all ASEAN central banks to trail the Fed in normalising policy.
AsiaFundManagers.com: What policy shifts do ASEAN countries need to see recovery?
Until the vaccination rollout achieves critical mass, regional governments are likely to be guarded in unwinding mobility curbs. Nonetheless, the narrative in the ASEAN region is increasingly shifting towards entering an endemic phase to end the pandemic-driven growth malaise. The fragility in the recovery will convince policymakers to withdraw policy accommodation at a drawn-out and calibrated pace, whilst extending credit and liquidity support to businesses as demand conditions are still to turn a corner. Fiscal consolidation is also likely to follow a gradual slope while exploring fresh revenue-generating measures to compensate for the stimulus provided in 2020 and this year.
Beyond the near-term, ASEAN economies also seek a wider footprint in the regional supply chain, amid ongoing reconfiguration, seek to participate in the secular upcycle in key sectors including electronics, electric vehicles etc. and attract foreign manufacturing investments. This is likely to see the reform agenda return to the-do list, whilst keeping an eye on the evolving Covid situation.
AsiaFundManagers.com: Thank you very much for the interview.
Radhika Rao
Radhika Rao is Senior Vice President and Economist for Eurozone, India, Indonesia region at DBS Economics and Macro Strategy. She is based out of Singapore.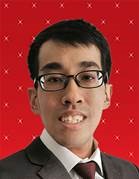 Han Teng Chua
Han Teng Chua is a CFA and Economist at DBS Group Research. He is based out of Singapore.