The Asian frontier markets have done exceptionally well in the Covid-19 crisis so far, says Ruchir Desai, co-fund manager of the AFC Asia Frontier Fund, Asia Frontier Capital.
2020 has been a year like no other. It started with the outbreak of Covid-19 across the globe leading to panic in financial markets and countries closing their borders and locking down their economies. At the start of the pandemic there were concerns regarding both the healthcare and economic impact on developing countries like Asian frontier markets.
As we approach year end, Asian frontier markets have done exceptionally well with respect to managing the healthcare as well as the economic impact of the pandemic. Countries like Vietnam have amongst the lowest case numbers globally. The mortality rate in Asian frontier markets is also amongst the lowest worldwide.
Besides closing their borders at the onset of the pandemic, a very young population has led to a more manageable pandemic situation for Asian frontier markets as the median age of our universe is only 28.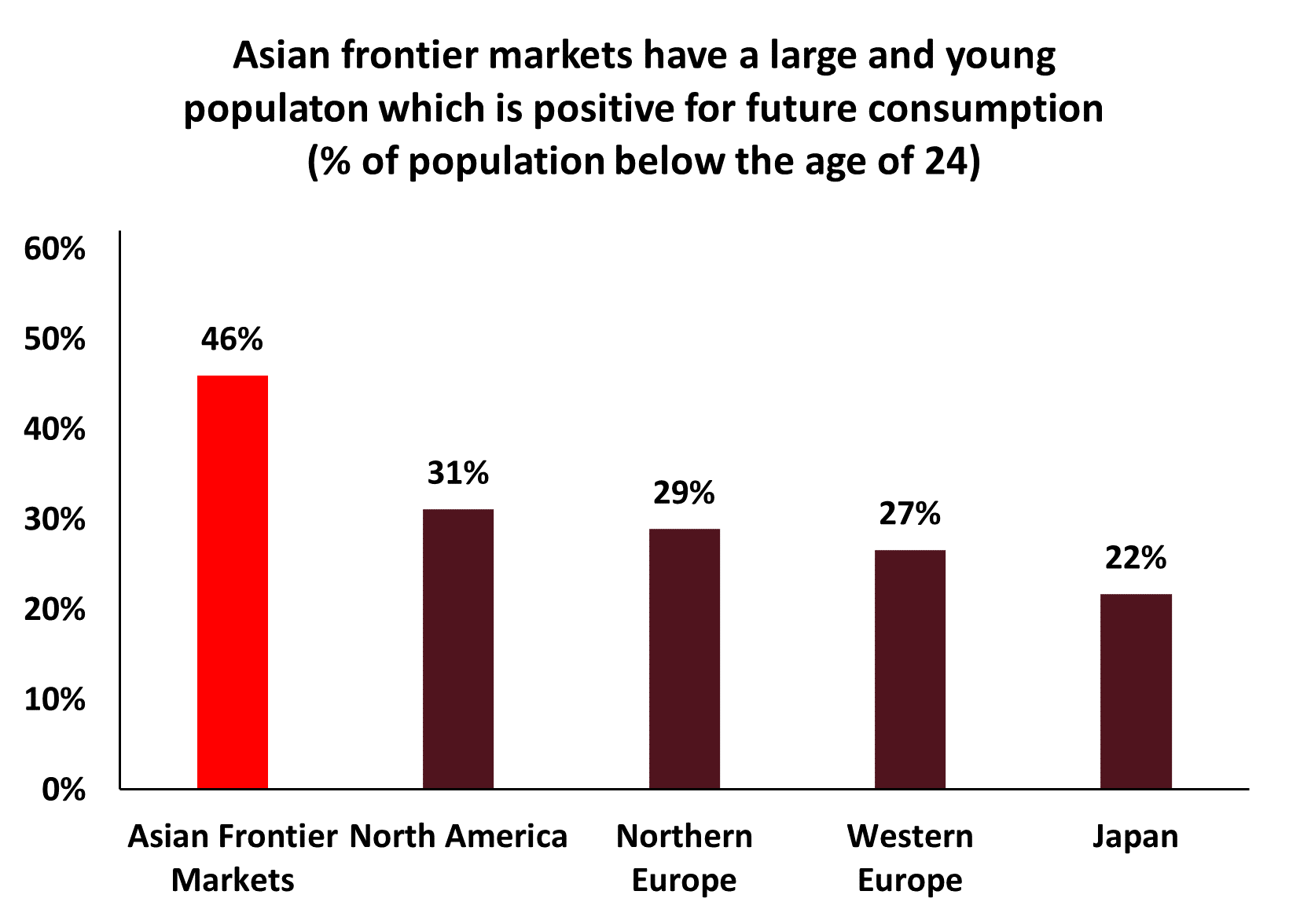 Being able to control the pandemic has allowed Asian frontier markets to re-open their economies. Vietnam's lockdown only lasted for three weeks in April which has enabled it to see a strong recovery in its economy since then. Bangladesh, Pakistan and Sri Lanka have also witnessed a sharp recovery in economic metrics such as industrial production, automobiles sales, cements sales and exports. This ability to manage the pandemic situation relatively well is the key factor as to why some Asian frontier countries like Bangladesh, Uzbekistan and Vietnam will still manage to show positive GDP growth in 2020.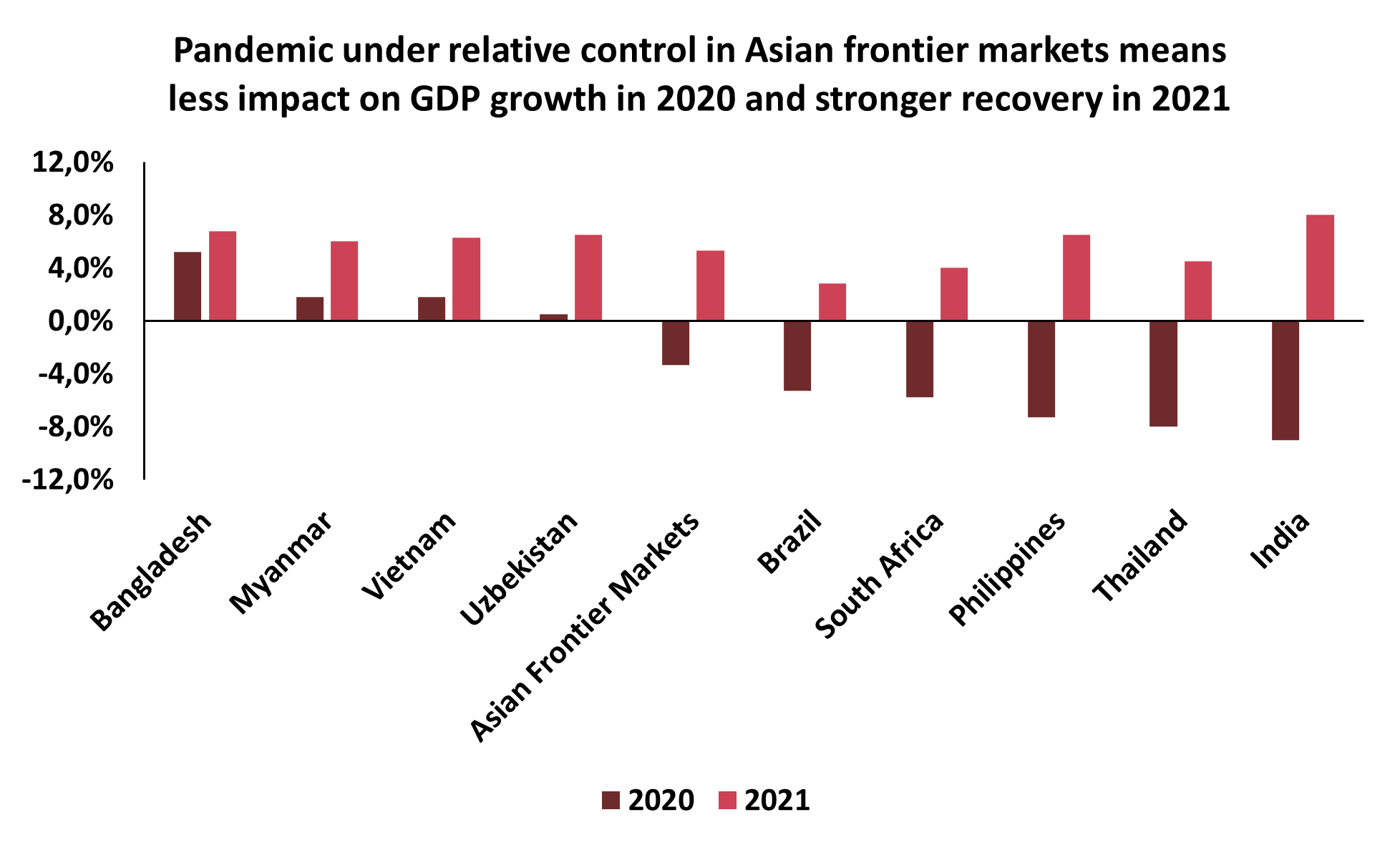 The ability of Asian frontier countries to manage the pandemic and re-start their economies sooner than other developing countries will allow them to show stronger economic growth. Between 2021-2025, Asian frontier countries are expected to post an average GDP growth of 5.5% which is the highest globally compared to other regions. Asian frontier countries like Bangladesh, Myanmar, Uzbekistan and Vietnam are expected to post robust GDP growth rates of 6-7% over the next five years. We believe this divergence in economic growth between Asian frontier markets and other countries will be one of the bigger trends in 2021 and beyond.
Biden presidency positive for Asian frontier markets
Besides stronger economic growth, a Biden presidency in the U.S. will also be a major positive for Asian frontier markets. Compared to Donald Trump, the consensus is that the Biden administration will most likely take a less antagonistic and less hostile approach to resolving issues with China. This looming hostility between China and the U.S. over the past few years has had an impact on investor sentiment in Asia and less aggressive relations between the two countries can have a tremendously positive effect on investor sentiment in the region.
One of the most important trends that we foresee in 2021 and the coming years is the accelerated de-risking of supply chains in the face of the Covid-19 crisis. Most notably, Asian frontier economies like Vietnam are already witnessing a big benefit from this trend as both foreign direct investments and exports grew in 2020 despite the impact of the pandemic on the global economy. To elaborate further, Samsung now assembles the majority of its mobile phones in Vietnam and Apple's suppliers have also begun manufacturing operations in the country in the last few months.
Countries like Bangladesh and Pakistan are also witnessing garment export orders being diverted from China due to the lower costs that both these countries offer. Further, over the past decade Bangladesh has transformed into the world's second largest garment exporter after China.
The probability is also increasing that a viable vaccine to treat Covid-19 will be released in the first half of 2021. This will be another positive for Asian frontier markets as many of these countries like Cambodia, Myanmar, Sri Lanka and Vietnam have a large tourism sector. We believe that cyclical stocks in the airlines, airport and hotel sectors could outperform in 2021 as international travel becomes a reality again towards the latter part of 2021.
These positive developments are backed by extremely attractive valuations with Asian frontier markets trading at a big discount to their emerging market peers. With global interest rates anticipated to remain low for the foreseeable future and Asian frontier markets posting strong GDP growth backed by structural changes in supply chains which will benefit them, it is only a matter of time before these markets rally further after their very strong run since March 2020.
Ruchir Desai
Co-fund manager, AFC Asia Frontier Fund
Asia Frontier Capital
Ruchir Desai is the co-fund manager of the AFC Asia Frontier Fund and has been with Asia Frontier Capital since July 2013. As part of managing the fund, he covers markets such as Bangladesh, Kazakhstan, Myanmar, Pakistan, Sri Lanka and Vietnam. He holds an MBA in Finance from CUHK Business School, The Chinese University of Hong Kong during which time he spent a semester on exchange at The Fuqua School of Business, Duke University. He is also a CFA charterholder.