The Japanese economy is facing enormous challenges. The effects of the trade conflict, demographic change, labour shortages and the consequences of decades of stagnation. We talked to Daiji Ozawa, Managing Director and Chief Investment Officer at Invesco Japan, about the prospects for Japanese equities.
The Japanese economy is facing enormous challenges: the effects of the trade conflict, the demographic shift, labour shortages, and the consequences of decades of stagnation, to name a few. We spoke with Daiji Ozawa, Managing Director and Chief Investment Officer at Invesco Japan, about the prospects for Japanese equities.
AsiaFundManagers.com: Mr. Ozawa, Shinzo Abe has been re-elected by a wide margin. What does this mean for the Japanese economy?
Daiji Ozawa: Given the good economic conditions and the increased approval of his cabinet, Shinzo Abe's landslide victory, winning 553 of 810 votes, came as no surprise. Immediately after his re-election to a third term, Abe declared that he would reshuffle the cabinet to continue his reform agenda, dubbed 'Abenomics'. The Japanese economy is very important to him, and the economic recovery seen during his tenure has been an important factor in his popularity.
It is in Abe's best interests to maintain economic momentum
There will be nationwide local elections held in spring 2019, and the House of Lords election is scheduled for the summer. An increase in excise duty is planned for October. Abe's cabinet should therefore be strongly motivated to maintain or strengthen the current economic momentum. Otherwise, the prime minister risks not finishing out his three-year term and risks missing the opportunity to host the 2020 Olympic Games in Tokyo, both worst-case scenarios he'd like to avoid at all costs.
AFM: What structural measures must Shinzo Abe address during his new tenure?
Daiji Ozawa: In our opinion, there are three key areas that Prime Minister Abe needs to address: social security, work style, and corporate governance reforms. Japan's ageing population poses a major budgetary challenge. As people grow older, they require pensions and increased healthcare. This drives up social security spending. This is why the government has tried to control or cap spending, while simultaneously introducing the principle of "equal work, equal pay" with labour market reforms. It aimed to promote a better work-life balance and to increase women and seniors' participation in the workforce.
Japanese equities benefit from corporate governance reforms
As part of the reforms, the government is considering raising the retirement age to 65, or even 70. If implemented, this would certainly solve many of Japan's problems, such as the budget deficit and labour shortages. In Japan, there are many people who really want to work as long as they can. The issue is controversial and still under discussion. But corporate governance reforms are the easiest option for the government. And since they entail no financial cost, they are supported by the Japanese public. The result has been higher corporate profits and improved capital efficiency, leading to higher share prices. Prime Minister Abe will continue to press for ongoing corporate governance reforms during his next term in office.
AFM: Numerous Japanese companies have issued profit warnings due to the trade dispute between China and the USA. How much is Japan affected by the trade dispute?
Daiji Ozawa: So far, only a few companies have announced profit warnings or revised forecasts. This is simply because the trade conflict and its negative consequences have not yet had a significant impact. Nevertheless, if the situation continues to escalate, we will see these consequences at some point. However, we do not yet know how serious they will be. On the plus side, investors may misjudge the improvement in relations between Japan and China over the past 12 months. Obviously, China has more motivation to look elsewhere in the current environment, given Donald Trump's tough, protectionist approach to the world's second largest economy.
New perspectives for Japanese companies
Chinese Prime Minister Li Keqiang, for example, made his first visit to Japan as prime minister in May. He visited the Toyota plants in Hokkaido with Prime Minister Abe, and inspected the company's high-tech products such as hydrogen fuel cell vehicles and self-driving cars. This is unprecedented in China. After this historic visit, Chinese government officials will be discussing various cooperation options with the automaker – another example of the trade war between the USA and China bringing Japan and China closer together. This should result in various business opportunities for Japanese companies.
AFM: Which Japanese companies and sectors can benefit from this even in the long run?
Daiji Ozawa: We still believe there are no winners in a trade war. However, we also believe that many investors overestimate the negative impact of the trade war on the Japanese economy and businesses. This is probably because they think Japan is a net exporter country. But it's not. In fact, Japanese gross exports only account for about 15-16 percent of total GDP, much less than Germany and Korea's 40-45 percent or France and the UK's 30 or more percent. In recent decades, many Japanese companies have expanded worldwide and set up factories in foreign countries to manufacture locally. As a result, they are now more resilient to trade barriers such as tariffs, and even stand to benefit from a slowdown in trade between the U.S. and China.
Trade conflict means opportunities for Japanese equities
Some investors will tell you that during a trade war, they buy shares that benefit from domestic trade. We don't think it's that straightforward, but we are also convinced that this trade conflict opens up new opportunities for us to invest in interesting companies at attractive prices.
AFM: How do you make your portfolio safe from the impacts of the trade dispute?
Daiji Ozawa: As investors, we take a long view, looking for companies generating competitive advantages in both the short- and long-term through their cash flow. We prefer companies with solid business models, strong corporate structures, outstanding management and excellent corporate governance. These will generally perform well regardless of market and economic conditions, because they are able to adapt to new environments resulting from major demographic, industrial or technological shifts. That's why we don't worry as much about portfolio positioning; from today's perspective, we are already well-positioned.
2% inflation is no easy target in Japan
AFM: The Bank of Japan is struggling in vain to reach an inflation target of 2%. What monetary policy options remain?
Daiji Ozawa: In July, the Bank of Japan (BOJ) published an interest rate guideline. According to the guidelines, the Bank intends to maintain the current, extremely low interest rate level for some time to come, even after the increase in excise duty in October, 2019. Together with the ongoing stealth tapering, which reduces purchases of Japanese government bonds and ETFs, this has increased the flexibility and sustainability of the current monetary policy. A target of 2% within a year is not easy to meet, given the tight labour market and the continued upward trend in nominal wages. Nevertheless, prices are rising slowly.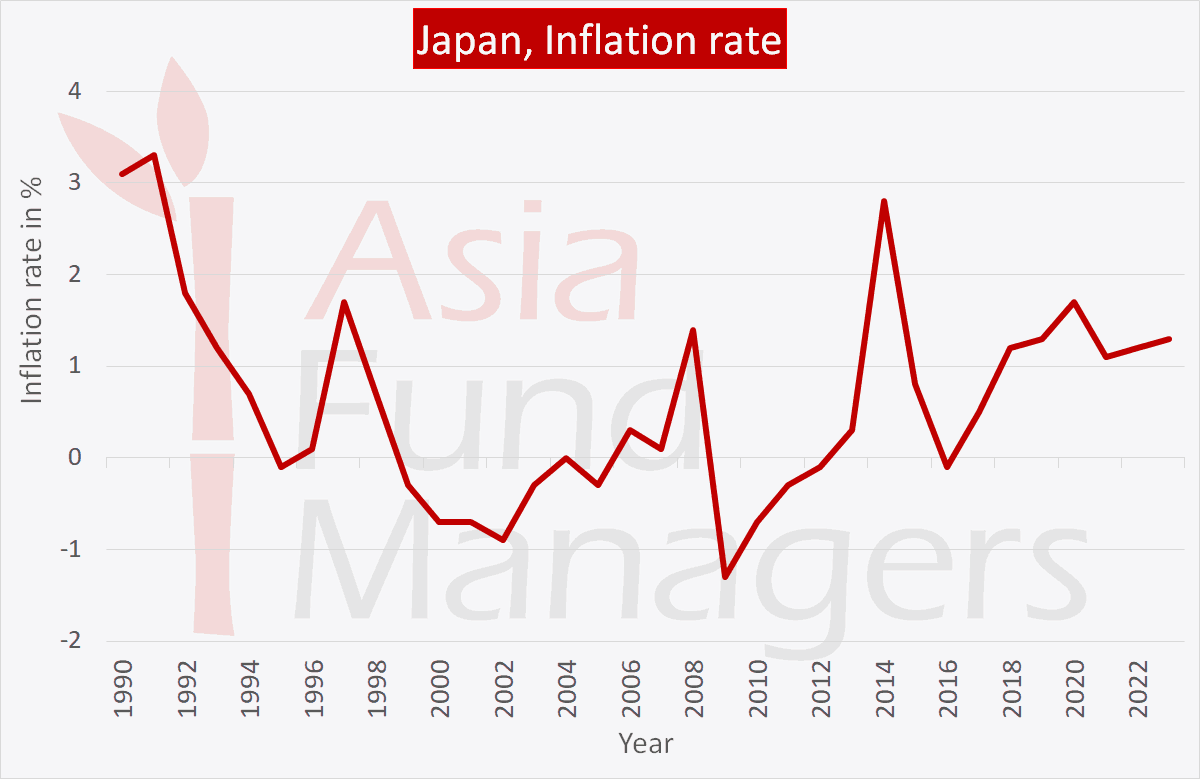 AFM: Japanese companies are accustomed to cheap money. How would they cope with interest rate hikes?
Daiji Ozawa: Even with interest rates close to zero, many Japanese companies did not borrow money from banks during deflation. Instead, they reduced debt and accumulated cash on their balance sheets. If the BOJ raises its key interest rates, it would certainly be time for Japan to finally put an end to deflation, or reach the price stability target of 2 percent. The reason Japanese companies did not borrow money from banks in the past was not nominal interest rates, but rather deflation. As soon as price stability or inflation returns, companies will again borrow more money from banks, provided that real interest rates are attractive. 
IoT, Robotics – Japan invests a lot of money in research and development
AFM: Japan has a demographic problem in the internal market. Where can growth come from?
Daiji Ozawa: The demographic stagnancy in Japan has been challenging for the country, but at the same time it offers a great opportunity. Fortunately, Japan has great technology, talent and financial resources. So, Japanese companies have begun pouring money into R&D and investments in areas such as robotics and IoT. This not only improves productivity and capital efficiency, but also reduces labour shortages and drives GDP growth. At the same time, it provides us with unique investment opportunities.
People often fail to see the positive side. Sure, older people eat out less and buy less new clothing. But they also spend more money on various services, such as travel, entertainment, and healthcare. Remember that they tend to be richer than the younger generation. This also creates space for new and interesting business opportunities.
Corporate governance as a driver for Japanese equities
AFM: Many Japanese companies have high cash reserves. How should this liquidity be wisely invested?
Daiji Ozawa: The ongoing reform of corporate governance in Japan in recent years has been one of the main drivers behind increased shareholder returns and capital efficiency. This means that Japanese companies, which still have a lot of money, have begun to use cash more sensibly and rationally for research and development, investments, M&A, share buybacks, and dividend payments. We believe that this is not a one-off boom, but a steady and continuous progression that we can expect to see continue into the foreseeable future.
AFM: Mr. Ozawa, thank you very much for your time.
Daiji Ozawa, CFA
Managing Director, Chief Investment Officer Invesco Japan
Daiji Ozawa joined Invesco Japan in 2010 from Morgan Stanley Investment Management (MSIM). He has 31 years of investment experience. Daiji Ozawa holds a B.A. in Political Science from Waseda University. He is also a Chartered Financial Analyst (CFA), a Chartered Member of the Security Analysts Association of Japan and a Board Member of the CFA Society of Japan.