South Korea equity funds give investors an entry point into one of the most dynamic of Asia's 'tiger' economies.
Boasting a growth story dating back to the 1950s, South Korea has successfully transitioned from being a labor-intensive manufacturing hub to a services-driven economy, serving as a model for other countries in the region, such as China, which are intent on a similar path.
More than being an economic transition story, South Korea is a hotbed of design and innovation and a strong cultural power in Asia itself. Cultural exports like Korean drama and K-Pop are popular throughout Asia and, increasingly in the outside world.
South Korea equity funds are in a prime position to both identify emerging trends in the economy and allow overseas investors to participate in South Korea's growth story.
Here, we not only evaluate two of the most prominent strategies on the market, but also compare an active strategy (JP Morgan Korea Equity) and a passive one (iShares MSCI Korea ETF USD Acc) to South Korea equity investing.
JP Morgan Korea Equity X (acc) USD
Managed from Hong Kong by Ayaz Ebrahim (since July 3, 2017) and John Cho (since Jun 13, 2011), the JP Morgan Korea Equity strategy has been running since June 18, 2008 and has Assets Under Management (AUM) of USD 182.5 million.
Benchmarked against the Korea Composite Stock Price Index (KOSPI) the strategy is actively managed using a value-based investment approach.
Overweight IT hardware, underweight electronics and finance
Key sector overweights for the strategy include IT hardware (strategy: 4.8%, Benchmark (BM): 0%), transport equipment (strategy: 7.9%, BM: 5.7%), and electricity and gas (strategy: 3.6%, BM: 1.6%), as of April 30, 2020.
Key sector underweights include electrical and electronic equipment (22.7%), finance (9.8%) and medical supplies (2.7%), as of April 30, 2020.
Samsung companies are an eighth of the total allocation
Allocations to Samsung companies – Samsung Electronics (9.6%) and Samsung SDI (2.9%) – account for an eighth of the total portfolio, and the top 10 companies account for 43.8% of the total allocation.
High fee but unconvincing source of alpha
In AsiaFundManagers.com's Fund Scoring*, JP Morgan's Korea Equity strategy scores 56.1 out of 100 – which is the highest placement amongst the Korea Equity funds.

The fund scores high for returns and information ratio over a three-year period, but underperforms over one-year and YTD.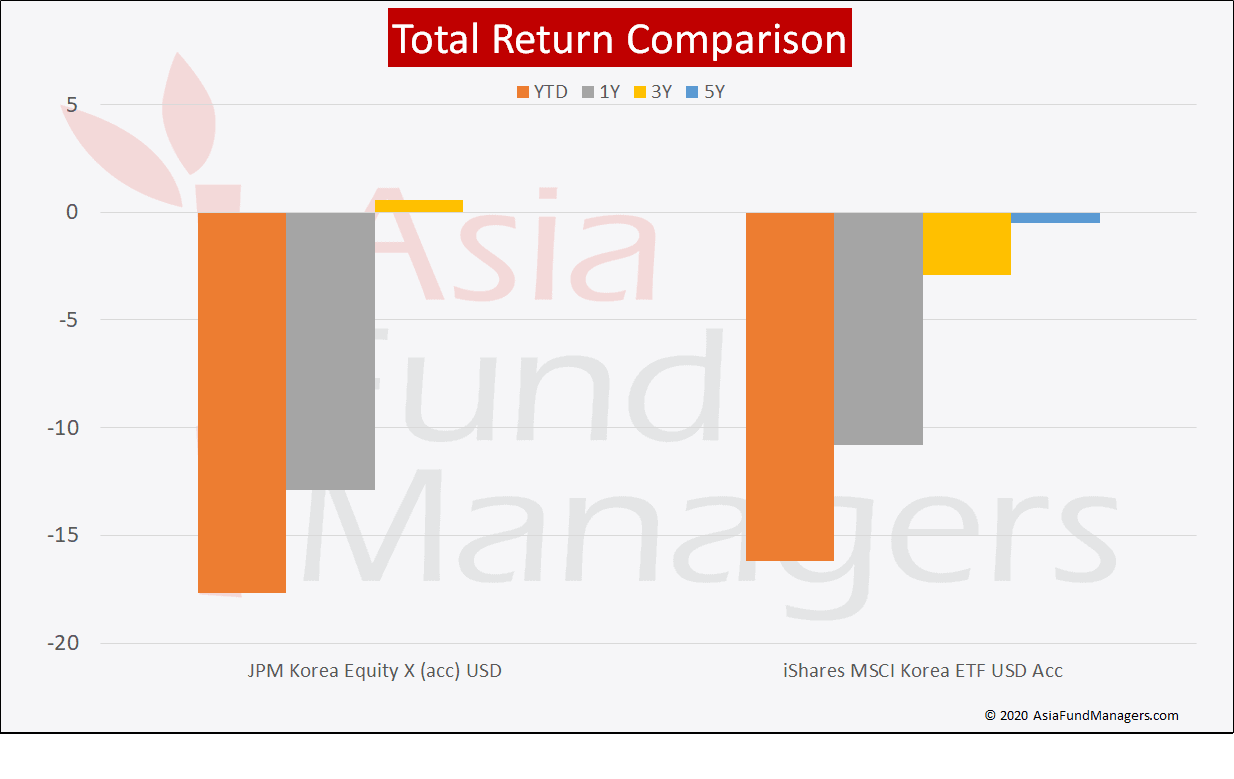 That's a similar story to the fund's performance vs its peer group. The strategy's performance ranks in the first quartile of 33 competing funds over five years, but ranks in the second quartile over three- and in the third quartil over one-year period.
Fee-wise the fund charges an annual fee of 1.81% per year in exchange for delivering alpha. Potential investors will have to decide whether recent performance justifies the charge, particularly in light of the fund's declining information ratios over the three and one year periods.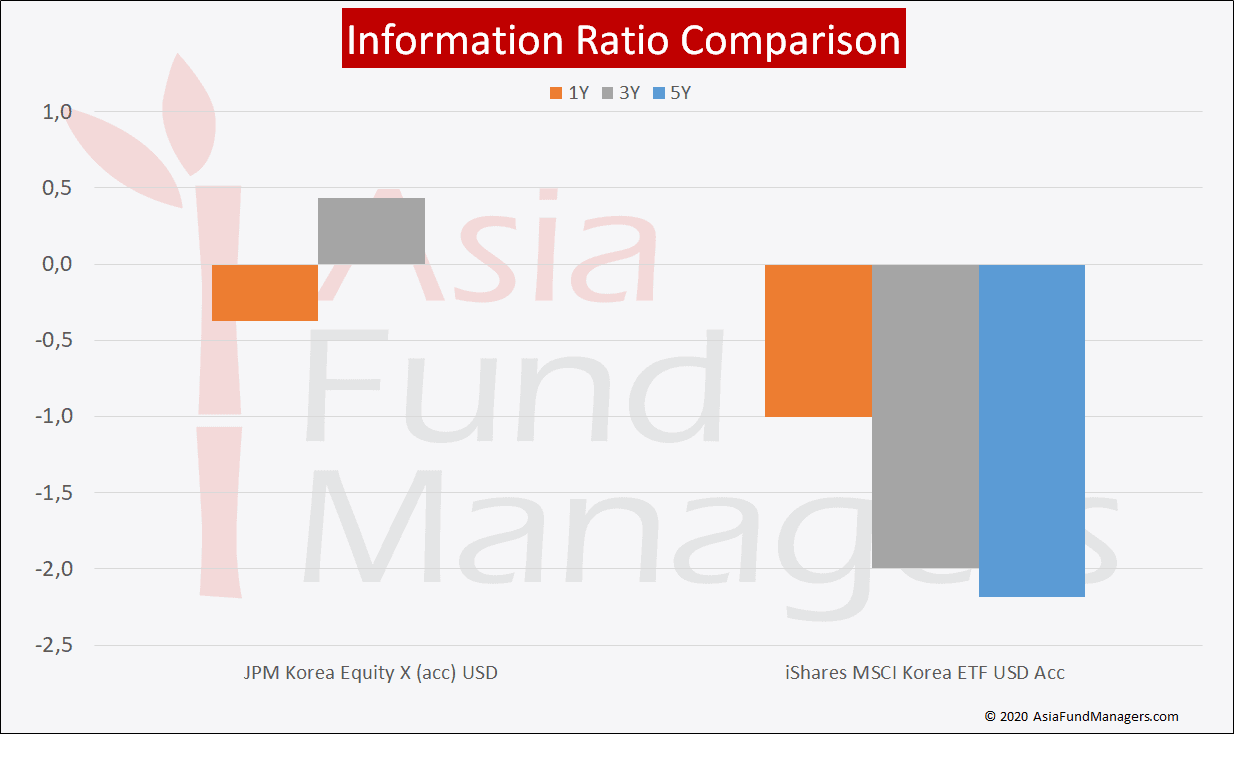 Given the fund's performance and cost, investors may consider a passive approach to investing in Korean equities.
iShares MSCI Korea ETF USD Acc
Operating since August 24, 2010, the iShares MSCI Korea ETF has AUM of USD 45.5 million and invests in line with the MSCI Korea 25/50 Index benchmark.
The strategy comes with a fee of 0.59% per annum and compared to a peer group of Korea equity strategies compiled by FT Funds, including both active and passive competitors, the strategy has a consistent record of first quartile performance over five-year and one-year periods as of June 10, 2020.
Conclusion: an unconvincing case for an active approach to South Korea equity investing
Despite decent performance vs peers over a five-year period, JP Morgan's Korea Equity strategy has an unconvincing record of performance against peers during the past one-to-three years, which investors may decide doesn't justify the fee charged for the strategy.
That said, JP Morgan's Korea Equity strategy may be a suitable investment for those investors who believe in the future potential of South Korean sectors like IT hardware and transport equipment to deliver returns in the coming years.
In contrast, the iShares MSCI Korea ETF strategy has a relatively consistent track record against both actively and passively managed peers over all time periods, scoring in the first quartile for all time measures available.
In closing, this profile shows that in the ongoing debate between the merits of active vs. passive approaches – as far as these South Korea-focused strategies are concerned – the case for a passive approach is a compelling one.
*About the Fund Scoring
To help investors find the best investment funds from a variety of registered products, the AsiaFundManagers.com team has developed its own quantitative fund scoring system. The Fund Scoring is based on current scientific findings on the quality of actively managed investment funds. An algorithm is used to weight different factors that provide information about the quality of the fund. The parameters include return, risk and cost ratios. The Fund Scoring calculates 8 sub-indices and an overall score, which is made up of the weighted sub-indices. Investment funds can achieve a maximum of 100 points for sub-indices and the overall score.