Taiwan Economy
Taiwan, officially the Republic of China (ROC), is the seventh-largest economy in Asia and the 22nd-largest economy in the world. With an export-oriented, dynamic capitalist economy, Taiwan is one of the Four Asian Tigers, along with Hong Kong, Singapore, and South Korea. The country is known for its rapid industrialisation between the 1960s and 1990s. In 1997, Taiwan was one of the few countries that withstood the Asian financial crisis due to its economic policy that restricted capital outflow.
In the past three decades, the Taiwanese economy has grown at an average rate of 4.8% year-over-year. Last year, the Taiwan economy expanded at a 2.6% rate. It had a nominal GDP of $589 billion in 2018. The IMF predicts that Taiwan's economic growth will slow over the next five years, gradually decreasing to a rate of 2.1% by 2023.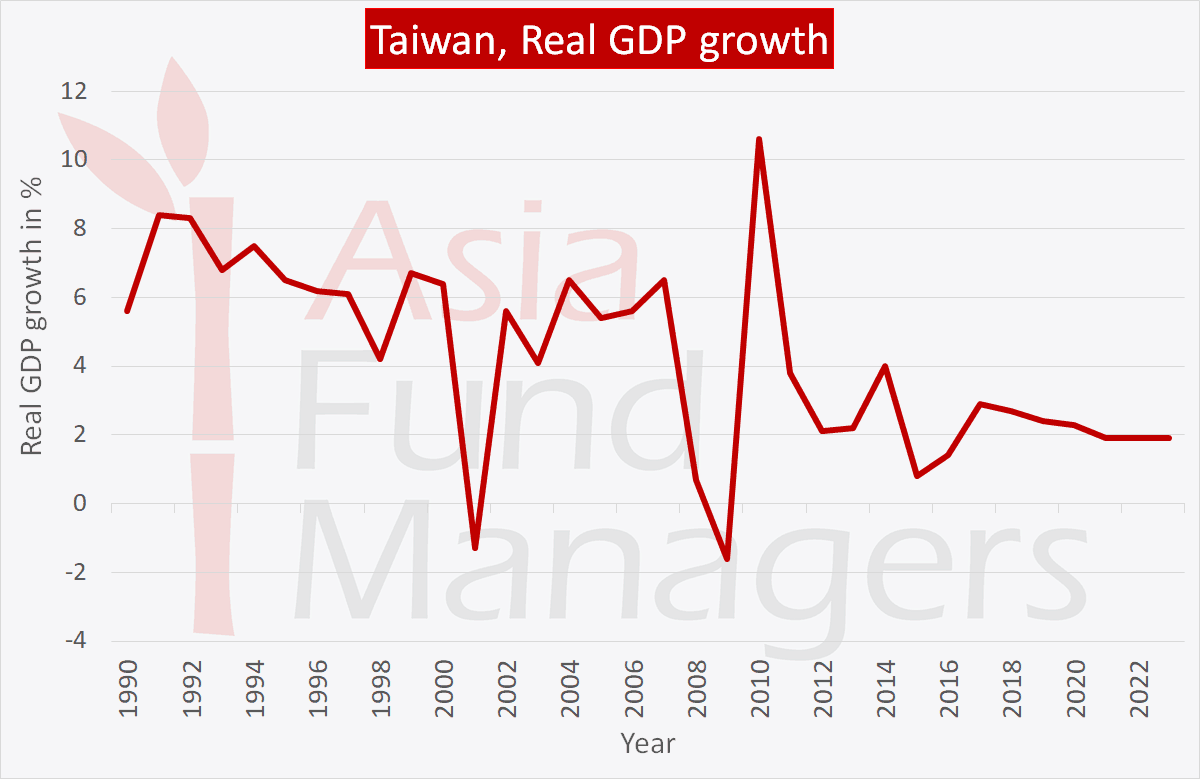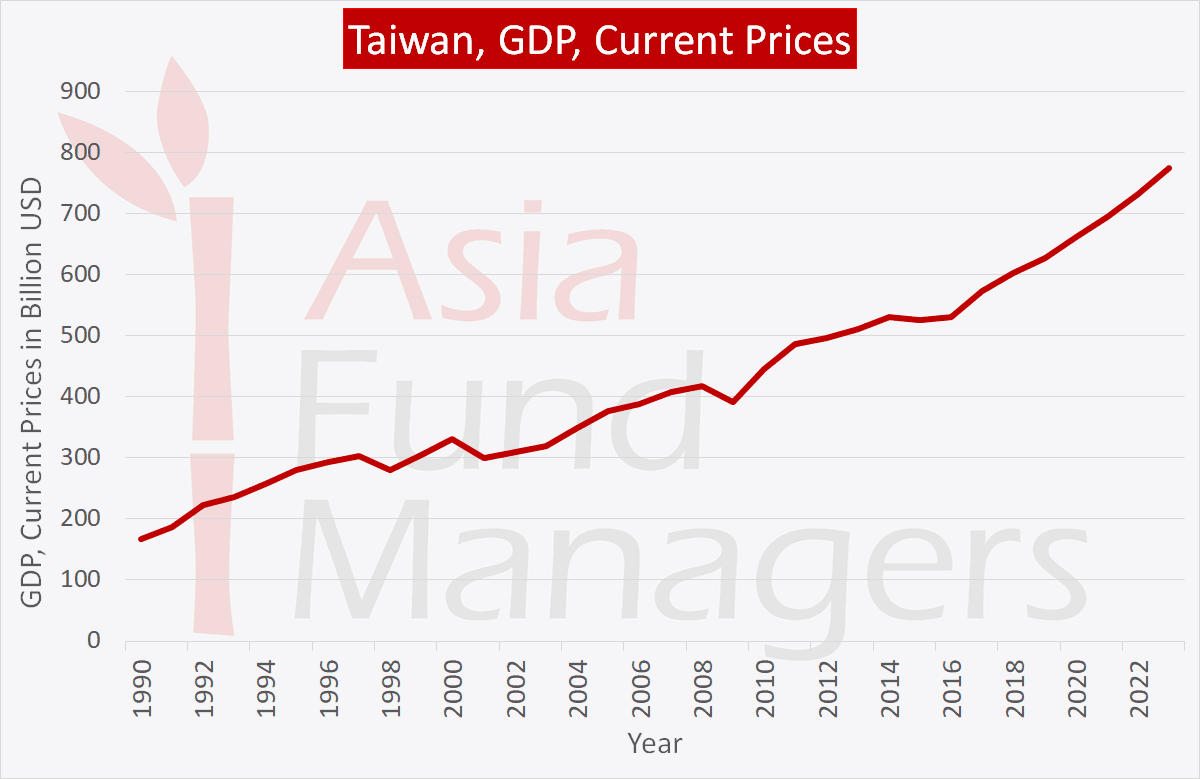 However, economic sluggishness has not affected Taiwan's job market. Taiwan's unemployment rate was approximately 3.76% last year, the lowest it's been in 18 years. This rate should remain stable for the next five years, according to IMF data.
Taiwan Economy: high income with an ageing population
The World Bank categorised Taiwan as a high-income economy. Taiwan's GDP per capita based on purchasing power parity (PPP) reached over $53,000 in 2018. By 2024, the IMF expects Taiwan's GDP per capita (PPP) to exceed $68,000.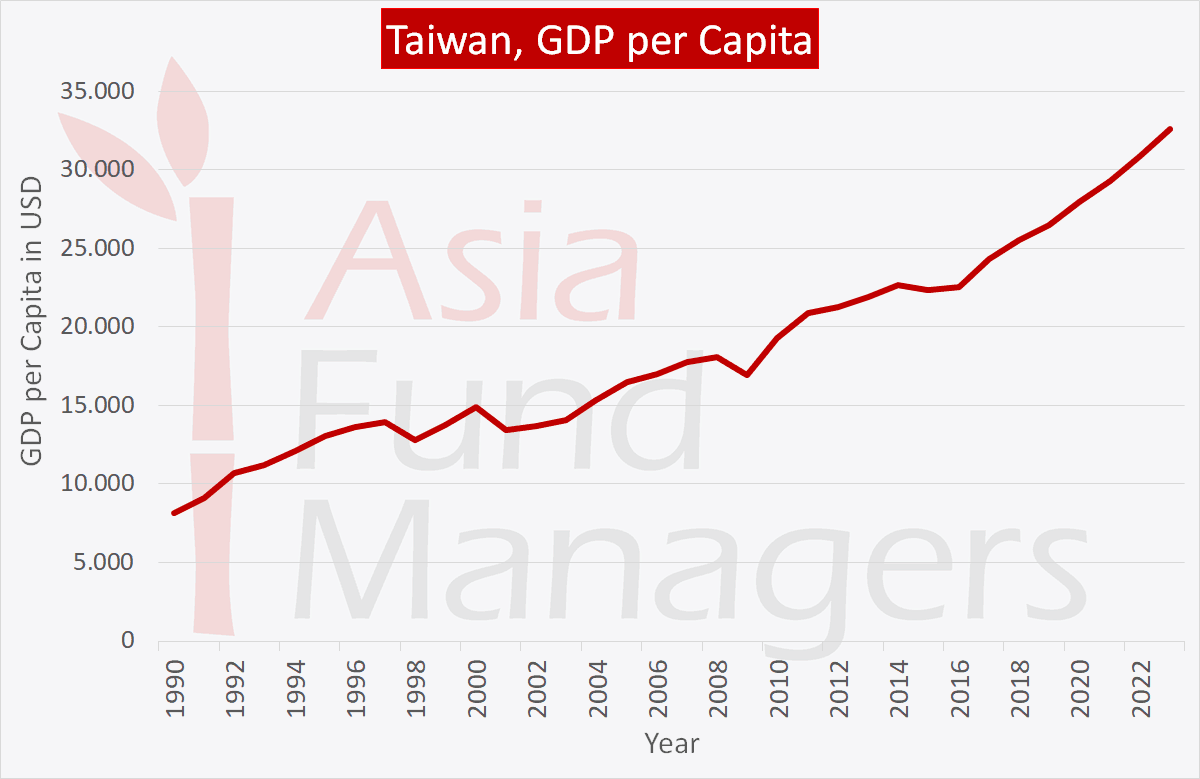 The total population of Taiwan stood at around 23.5 million in 2018. Its population growth rate hit a new low last year at 0.08%. Around 15% of Taiwan's population is 65 years old or older. Hence, the ageing population is one of Taiwan's challenges.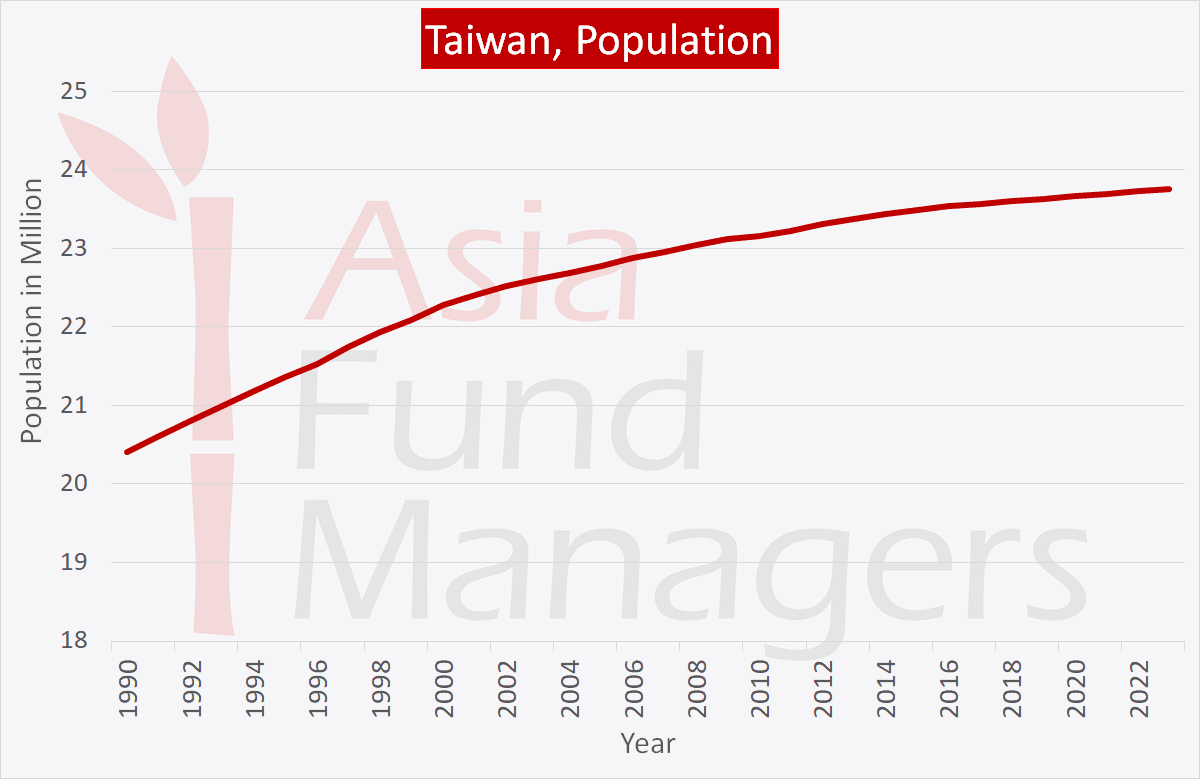 Currency and central bank
Taiwan's official currency is the New Taiwan dollar (NT$), which replaced the Old Taiwan dollar in 1949. It is issued by the Central Bank of the Republic of China (Taiwan), located in Taipei.
The Central Bank of the Republic of China (Taiwan) was previously known as the Central Bank of China. It received a new name in 2007. However, the same institution has been in charge of printing NT$ since 2000.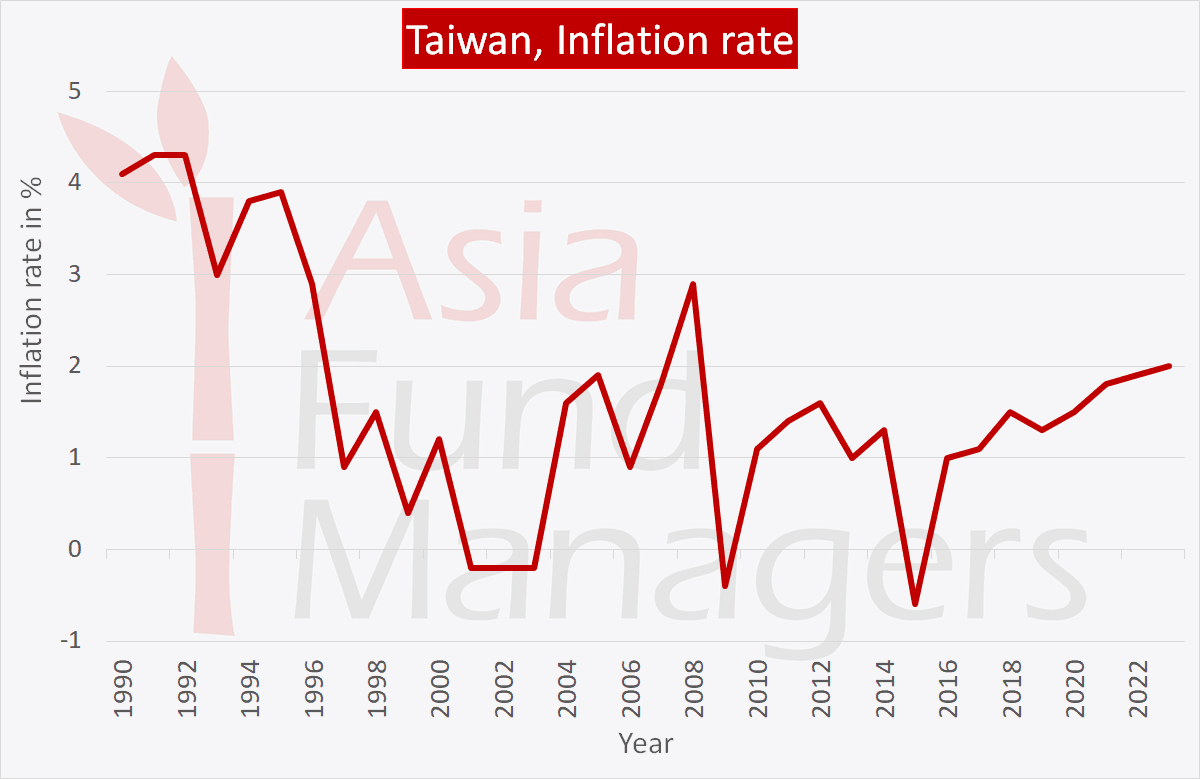 In 2018, Taiwan had an average inflation rate of 1.5% on consumer prices. The central bank expects Taiwan's core inflation to remain at 0.78% in 2019.
The benchmark discount rate from Taiwan central bank is 1.375%, which has remained unchanged since June 2016.
Industry and trade
Taiwan's economy is mainly driven by the services and industrial sectors, which contributed 62% and 36% respectively to Taiwan's GDP in 2017. Agriculture contributes less than 2% to Taiwan's economy.
Industrial manufacturing also plays an important role in the Taiwanese economy, specifically exports of electronics, machinery and petrochemicals. The country is one of the world's leading manufacturers of electronic components and devices, including LCD panels, DRAM computer memory, and networking equipment. Major hardware companies located in Taiwan include Acer, Asus, HTC, Foxconn, TSMC and Pegatron.
Trade and Competitiveness
The complicated relationship between Taiwan and the People's Republic of China (PRC) affects Taiwan diplomatic relations at an international level. China claims Taiwan as part of its territory and insists that countries cannot have official relations with both China and Taiwan. Therefore, the majority of Taiwan's trading partners do not have an official relation with Taiwan. However, Taiwan maintains informal relations with more than 60 countries worldwide and is an active member of several multilateral organisations, such as the World Trade Organisation (WTO), the Asian Development Bank and the Asia-Pacific Economic Co-operation (APEC) – all under the name Chinese Taipei.
According to the WTO, Taiwan was the 18th largest exporter and the 17th largest importer of merchandise in 2018. Top Taiwan trading partners include China, Hong Kong, and the U.S. Nearly 75% of Taiwan exports go to Asian countries.
Last year, the country managed to maintain a surplus in its trade balance. The total value of Taiwan's exports reached $336 billion last year, up 6% from the previous year. Meanwhile, total Taiwanese imports stood at $286 billion.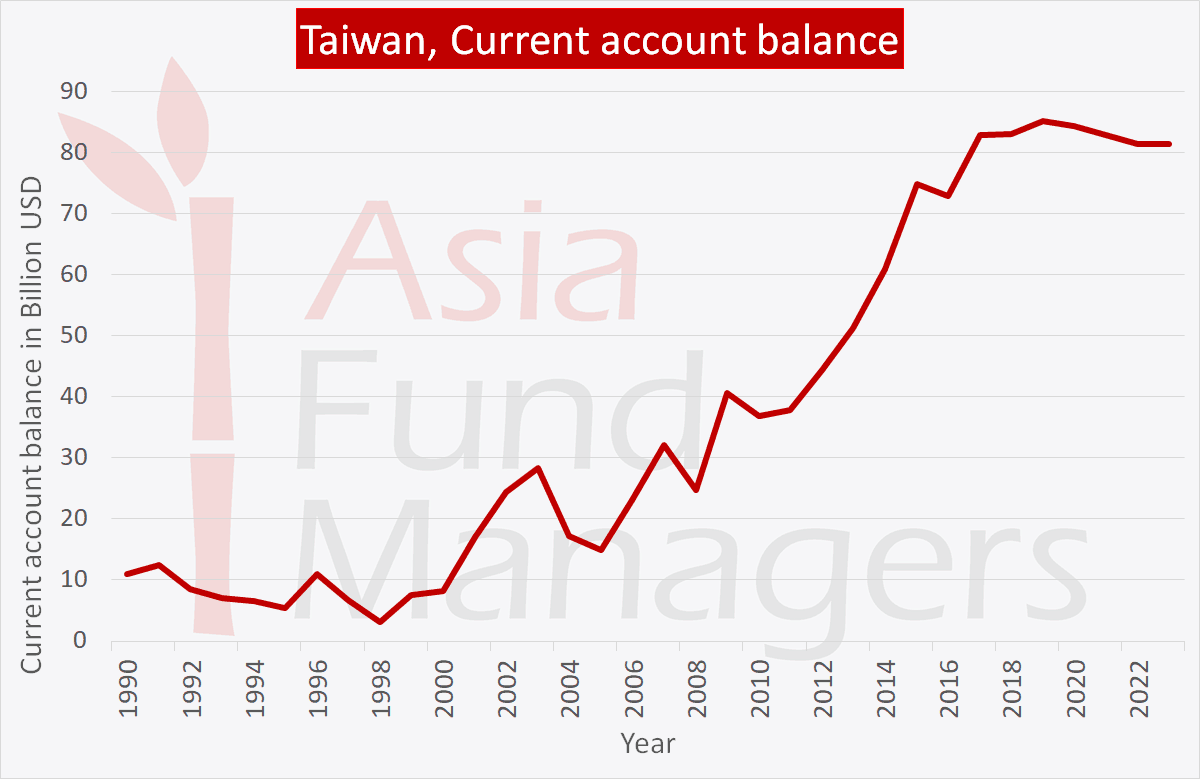 In 2018, Taiwan's FDI inflows reached $11.4 billion. According to the Index of Economic Freedom 2019, Taiwan's economy is the tenth-freest in the world. Taiwan also ranks 13th on the World Bank's Ease of Doing Business Index 2019.
Stock exchanges and capital markets
The Taiwan Stock Exchange (TWSE) was established in 1961 in Taipei. As of 2018, it had 928 listed companies, and a combined market cap of $1.04 trillion as of April 2019.
TWSE's primary index is the Taiwan Capitalisation Weighted Stock Index (TAIEX). It covers all of the listed stocks excluding preferred stocks, full-delivery stocks and newly listed stocks that have been listed for less than a month.
Investment Regulation
A foreign investor can hold a majority interest in Taiwanese companies. However, the authority limits foreign investors' ownership in several sectors, including telecommunications and media, gas, high-speed railways, airlines and international shipping companies.