Asia is projected to become the oldest region in the world. According to a report by consultancy Deloitte, by the 2030's, Asia is expected to have around 60% of the world's elderly population.
Japan, South Korea and China in particular face a shrinking working population and a growing number of elderly citizens. By 2060, pensioners (65 years or older) are expected to make up more than 30% of each country's population.
According to the Organisation for Economic Cooperation and Development (OECD), the working-age population in Japan will decrease as much as 30% from 2020 to 2060. South Korea and China are expected to see a similar trend with 26% and 19% declines in the workforce respectively over the same period.
Hong Kong, Singapore and Thailand show similar age shifts, whereas India and Indonesia are expected to benefit from a growing workforce – at least through 2060.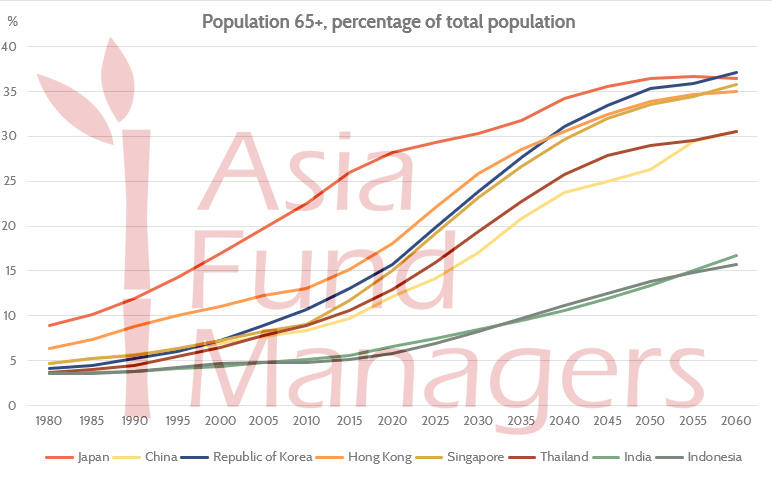 Fast-aging countries – who carries the burden of rising social security outlays?
With fewer workers to carry the load, the social security burden grows heavier. In Japan, the working-age population started shrinking in 1995. Around the same time, the country entered economic stagnation and deflation. Japan has managed to secure social security outlays over the years by accumulating debt. According to S&P Global, social security programs accounted for 18.7% of GDP in 2015. By 2050 this number is expected to reach 22.1%.
Meanwhile, South Korea is already facing a high poverty rate among its elderly population (39% in 2015). Social security outlays accounted for 7.7% of GDP in 2015. This is expected to rise to 17.8% by 2050. The South Korean government has already warned that the national pension fund might go bust in 2057 unless action is taken.
In China, approximately one in every 10 people is older than 60. The aging Chinese population is mainly a result of the one-child policy. The government ended the policy in 2016, in an attempt to slow down the decrease of the birth rate. However, the rate in Asia's largest economy has continued to decrease over the last two years.
Social security outlays do not make as much of GDP as in Japan. S&P Global put them at 6.3% in 2016. However, estimates expect it to reach 16.5% by 2050. Economic growth is also expected to slow down further, with growth rates forecasted to fall to 1.5% between 2040 and 2050.
Governments react slowly to ageing population challenges
In Japan, the retirement age is currently 65 years. Prime Minister Shinzo Abe's government is considering raising it to 70 or 75. However, experts see relaxing the strict controls over foreign workers as a better long-term solution.
The South Korean government has tried to tackle the problem with birthrate measures. Between 2016 and 2018 the government spent $102bn USD to lift the fertility rate toward the target of 1.5. The measures not only failed, but were also unable to halt its decline. In addition, the welfare ministry is pushing for a reform of the national pension system. The proposed measures are currently under review by the National Assembly.
With the introduction of a "reverse mortgage" system, China found a way for elderly citizens to support themselves without draining government resources. The system allows ageing pensioners to use their wealth, hence homes, as security to borrow money for retirement. But so far very few have taken this option.
Asia fixed income: demand rises as demographics change
All three countries suffer from rather weak pension systems. Japan, South Korea and China all received a grade D on the 2018 Melbourne Mercer Global Pension Index. This means that they have major weaknesses and omissions that need to be addressed.
Jamie Grant, Head of Emerging Markets Debt and Asian Fixed Income at First State Investments indicates that "many of Asia's existing retirement systems appear ill-prepared for rapid population ageing". Compared to OECD averages, the percentage of Asian people that contribute to pensions is currently low.
The Asian Development Bank (ADB) estimates that by 2030, around 500 million savers in Asia will begin a pension plan for the first time. "This rapid development of pension systems across the region is expected to significantly increase demand for various investment types in Asia, including fixed income," Grant says.