China's ambitious plan to revive the silk road route raises concern in a few countries involved. In early March, Malaysian Prime Minister Mahathir Mohamad advised the Philippines to be 'very careful' with financial help from China for its infrastructure projects.
"If you borrow huge sums of money from China and you cannot pay – you know when a person is a borrower, he is under the control of the lender. So we have to be very careful with that," said Mahathir during his official visit to Manila. He urged the Philippines to avoid unsustainable debt by accepting Chinese investments for its infrastructure development.
As a response, the Duterte administration said that they will consider Mahathir's advice. "We will take his advice and the economic managers are evaluating all kinds of loans we are having with the Chinese government," stated spokesperson Salvador Panelo.
In 2016, China agreed to lend $9bn for the Philippines during President Rodrigo Duterte's first visit to Beijing. Duterte attended the Belt and Road Forum in early 2017 and had closed dozen agreements with China on the Philippines infrastructure projects.
Malaysia under ex-Prime Minister Najib Razak negotiated several Chinese-funded projects. Mahathir before he was elected prime minister in May 2018, was a prominent critic of those projects. Last year, he cancelled a handful, including $20 billion East Coast Rail Link project. As reason Mahathir said that Malaysia cannot afford pouring in too much money and also that these projects are not needed for Malaysia at this moment.
China Belt and Road Initiative: Ambition of the century
Dubbed as Belt and Road Initiative (BRI), the silk road project was announced by Chinese President Xi Jinping in 2013. It comprises an overland 'belt' across Eurasia and a maritime 'road' across the Indian ocean up to Europe via the Suez Canal. The project will create a vast network of transportation, energy and telecommunications infrastructure connecting Asia, Africa and Europe.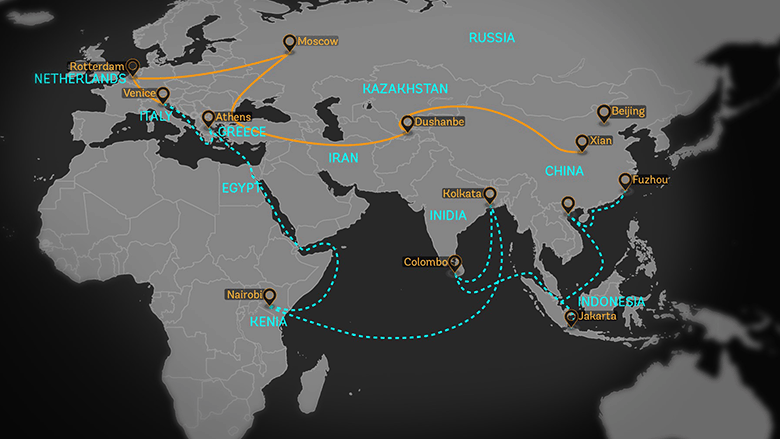 The BRI involves at least 76 countries. Bejing also plans an extention to Latin America and the Caribbean.
The Center for Strategic and International Studies (CSIS) estimates that Chinese investment for the new silk road project range from $1tn to $8tn. According to Morgan Stanley calculation, the project's spending will increase to $1.3 trillion by 2027.
Chinese state-owned financial institutions have pledged $345bn for BRI project, while commercial state banks are lending $233bn. Furthermore, China allocates $40bn for Silk Road Fund, Asian Infrastructure Investment Bank will disburse $100bn and the World Bank agreed to chip in $59bn.
China Belt and Road Initiative: Debt-trap in disguise?
Concerns regarding the silk road project emerged after Sri Lanka had to sign Hambantota port over to Beijing on a 99-year lease. The reason behind: the country cannot repay Chinese loans it took out to build the port in the first place.
Several other countries have also been identified to have an elevated debt risk due to the projects, including Pakistan, Djibouti, the Maldives, Laos, Mongolia, Montenegro, Tajikistan and Kyrgyzstan. The International Monetary Fund has urged China to pay more attention to debt sustainability in partner countries.
The Center for Global Development determines that 23 countries in BRI project are highly vulnerable to debt distress. Laos, one of the focus countries, is planning to join the project of China-Laos railway. The project costs $6bn, an equivalent of almost half the country's GDP. Meanwhile to Djibouti, China has provided nearly $1.4bn of funding that represents 75 per cent of Djibouti's GDP.
China Belt and Road Initiative: Boosting economy
On the other hand, a report from trade credit insurer Euler Hermes cited that merchandise trade between China and BRI-partner countries is predicted to hike by $117bn in 2019. The report shows that the trade growth will add 0.3 per cent to global trade and 0.1 per cent to global growth.
Senior economist at Euler Hermes Mahamoud Islam explains the growth comes as an effect of better connectivity and infrastructure along the belt and road network, as well as better trade relations between China and its target markets. "Other countries benefit from demand from China. You can argue about politics and the supply chain being controlled by China. But at the end of the day, this is bringing demand to markets that benefit from that demand," added Islam.
On the other hand, Chinese President Xi Jinping stressed that the initiative serves as a solution for China to participate in global opening-up and co-operation and improve global economic governance. In a symposium in 2018, Xi asked for efforts to push for progress in Belt and Road projects, especially to give benefits to local people and keep expanding the market while maintaining the balance of trade.